The Slovenian pavilion at the start of the Tour de France in the Danish capital
The 109th Tour de France started in the Danish capital on July 1. On the sidelines of this major cycling event, Slovenia presented itself to the visitors as a country of outstanding cycling competitors and a green, sustainable tourist destination, as well as the host of "L'Etape Slovenia" - the official Tour de France event - which will take place in Slovenia in September.
The Slovenian Embassy, ​​in cooperation with the Slovenian Tourist Board, organized a series of promotional activities as part of the Tour de France Grand Départ. In the center of Copenhagen, right next to the embassy and the route of the first stage of the Tour, we set up a pavilion on June 30 and July 1 2022, which we called "I Feel Slovenia / L'Etape Slovenia".
To the opening of the pavilion, we invited journalists, local tourist agencies and Embassies of countries that have competitors in the race. We have prepared virtual cycling competitions in Slovenia with exciting awards for the fastest riders. Just before the start of the race, we organized a meeting of fans of outstanding Slovenian cyclists and distributed cheering props, especially "I Feel Slovenia" flags to them.
We introduced amateur cyclists to L'Etape Slovenia, the official Tour de France event, which will be held in Slovenia this September.
We were especially pleased with the visit of the Danish TV2 team, which reported live from the pavilion on the day of the first stage of Tour the France.
Slovenia presented itself as a destination with endless possibilities for active holidays, culinary experiences and a country with a sustainable approach to tourism.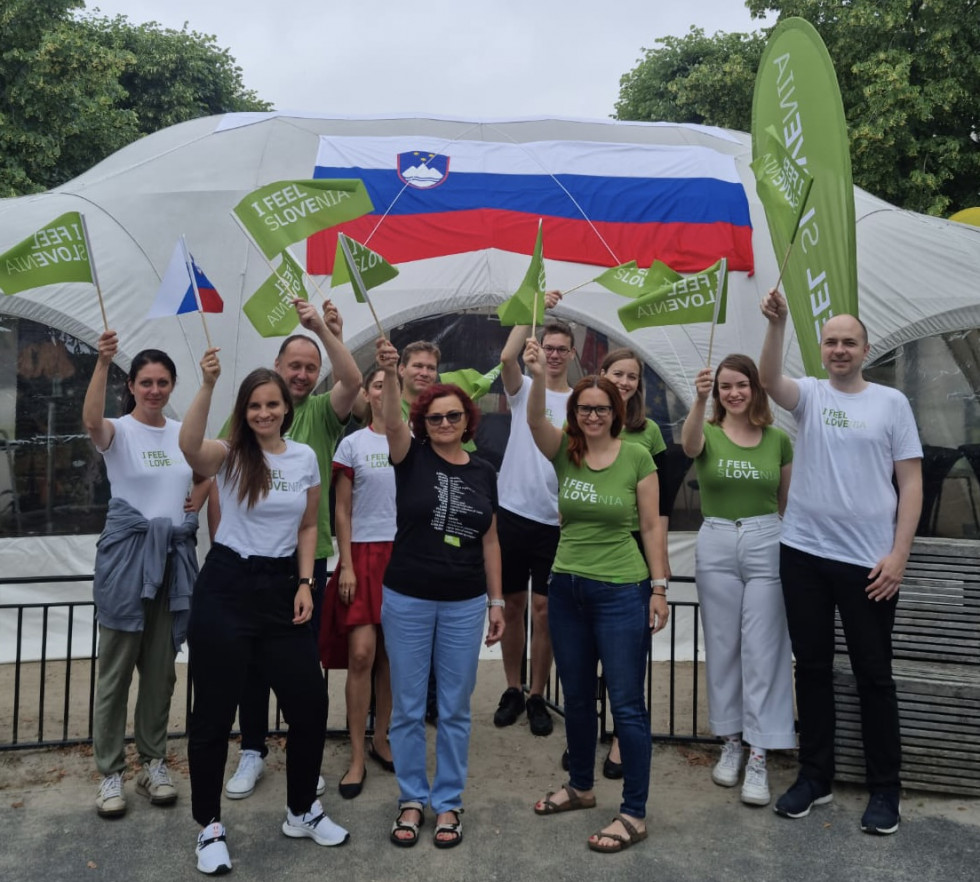 Slovenian pavilion
Danish TV2 team in the Slovenian pavilion
Ambassador Skrt with young Slovenian fans