Minister Fajon's first bilateral visit to Berlin
Ministry of Foreign Affairs
During her first bilateral visit to Berlin, Foreign Minister Tanja Fajon met Minister of Foreign Affairs of the Federal Republic of Germany Annalena Baerbock. They discussed activities to strengthen bilateral relations, with a focus on strategic dialogue between their respective countries and signed a joint action plan for 2022–2024. They also talked about the war in Ukraine and cooperation in humanitarian aid projects in the country, EU enlargement to the Western Balkans, the Stockholm Initiative for Nuclear Disarmament and climate change.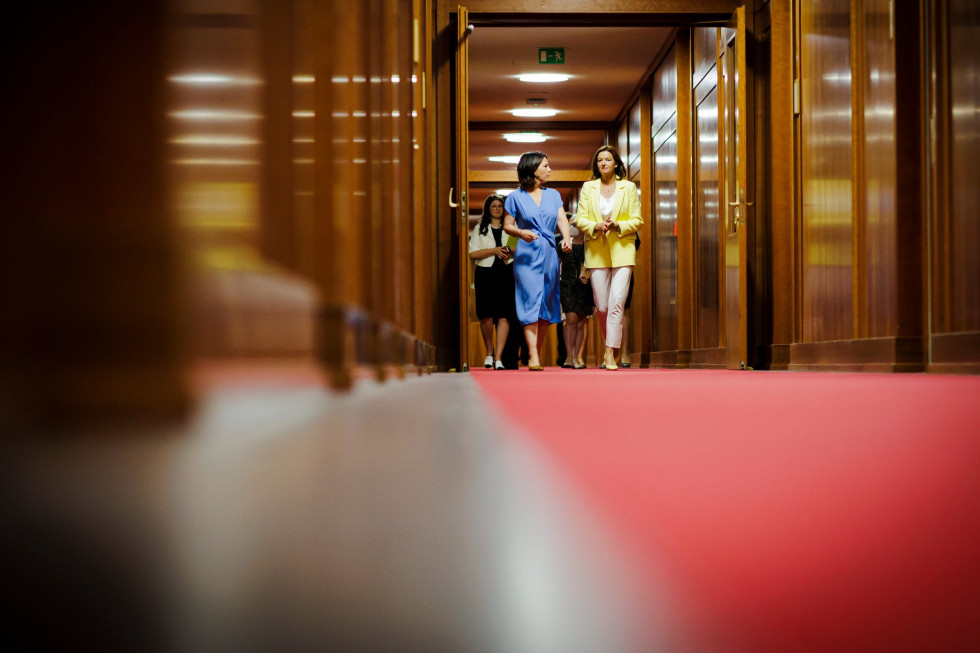 Ministers
Bilateral talks between the Slovenian and German foreign ministers
Signing of the Action Plan
Minister after signing of the Action Plan
Press conference
"My first bilateral visit to Berlin since taking office sends a symbolic message of Slovenia's foreign policy looking towards the core of Europe, demonstrating its commitment to fundamental European values and the respect for the rule of law. Slovenia and Germany share similar views on major issues in the international community and have developed excellent bilateral relations. In addition, Germany is Slovenia's most important foreign trade partner. Our two countries have developed excellent cooperation within the European Union and other international fora. The German Foreign Minister and I are the first women foreign ministers in our respective countries. We are committed to gender equality through our foreign policy activities, and support the enlargement of the Union to the Western Balkans," said Minister Fajon after her meeting with the German Foreign Minister.
Ministers Fajon and Baerbock then went on to exchange views on EU activities in relation to the war in Ukraine and its consequences, particularly as regards the energy and food crises, where both countries support joint EU action. They also discussed concrete proposals for joint development aid projects in Ukraine, especially on psychosocial assistance for Ukrainian refugees, rehabilitation of the wounded and demining, where the Slovenian foundation ITF Enhancing Human Security can contribute a great deal with its experience.
The two ministers signed the Joint Action Plan between the Republic of Slovenia and the Federal Republic of Germany for the 2022–2024 period, which defines activities for cooperation between the two countries in various areas of common interest, ranging from foreign policy and development cooperation to the environment, the economy, and culture. Culture in particular contributes significantly toward strengthening relations between Slovenians and Germans. Slovenia will be the Guest of Honour at the Frankfurt Book Fair 2023, which will further enrich cultural ties between the two countries.
Minister Fajon expressed Slovenia's support for the Stockholm Initiative for Nuclear Disarmament which, given the current geostrategic situation, is of some importance.
As part of her visit to Berlin, Minister Fajon also met with representatives of the Federation of German Industries.