Minister Tanja Fajon hosting Deputy Speaker of Ukraine's Verkhovna Rada Olena Kondratiuk
Ministry of Foreign Affairs
Foreign Minister Tanja Fajon received Deputy Speaker of the Verkhovna Rada Olena Kondratiuk, who is paying a visit to Slovenia as a special envoy of President Volodymyr Zelenskyy. Their discussions focused on the current situation in Ukraine and its European perspective.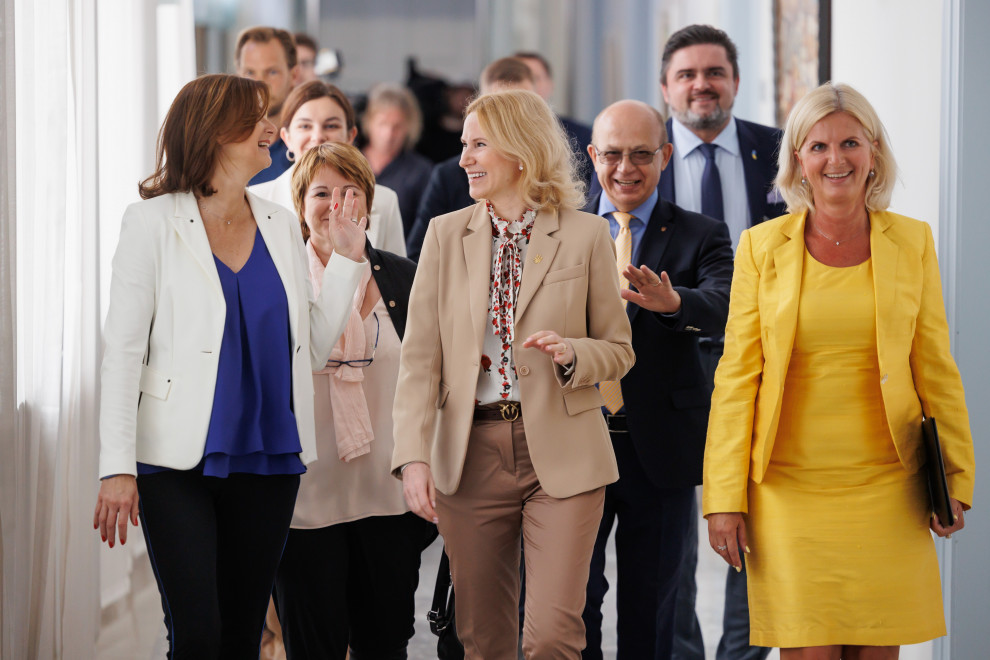 Minister Tanja Fajon hosting Deputy Speaker of the Verkhovna Rada Olena Kondratiuk
The Slovenian and Ukrainian delegations during talks
Minister Tanja Fajon hosting Deputy Speaker of the Verkhovna Rada Olena Kondratiuk
Minister Fajon underlined that Slovenia condemns in the strongest terms the Russian unacceptable aggression against Ukraine, especially the numerous attacks on civilians and civilian infrastructure. Slovenia is a staunch supporter of the sovereignty, territorial integrity and independence of Ukraine within its internationally recognised borders. The Minister promised Slovenia's further support for Ukraine, informing the Deputy Speaker that a special task force for Ukraine had been set up at the Slovenian Ministry of Foreign Affairs, to be led by State Secretary Samuel Žbogar. She also informed the Deputy Speaker that Ambassador Tomaž Mencin will be returning to Kyiv in the following days.
Deputy Speaker Kondratiuk thanked Minister Fajon for the assistance Slovenia has provided so far and for support in adopting restrictive measures against the Russian Federation. She also expressed the hope that Ukraine will acquire EU candidate status at the European Council in June.

Minister Fajon assured her guest of Slovenia's support for Ukraine and its European course, stressing that Slovenia has provided humanitarian aid worth 3.2 million euros to Ukraine, including assistance to numerous Ukrainian refugees. In this context, the Minister explained that Slovenia will continue providing aid to Ukraine, particularly in the humanitarian and development areas and in the psychosocial rehabilitation of children, which is an area in which Slovenia has significant expertise. Slovenia is also willing to provide assistance in demining, which will be crucial to a successful post-war restoration of Ukraine.