Minister Fajon and her Austrian counterpart Minister Schallenberg discuss further close cooperation
Ministry of Foreign Affairs
Today, Minister of Foreign Affairs Tanja Fajon hosted the Federal Minister for European and International Affairs of the Republic of Austria Alexander Schallenberg. This was the first bilateral meeting she has hosted since assuming her duties.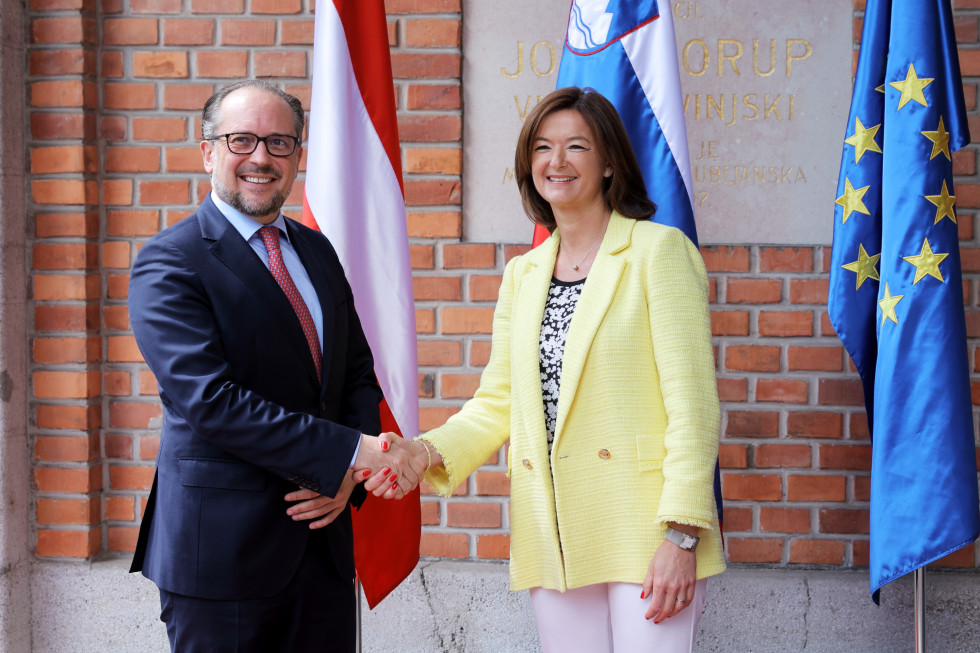 Ministers during the tête-à-tête
Ministers during the press conference
Foreign ministers of Slovenia and Austria in the hallway
Talks between the two delegations
Assessing the bilateral relations as friendly and marked by the spirit of partnership, Minister Fajon and Minister Schallenberg advocated a deepened cooperation between the countries. Minister Fajon emphasised the important role the autochthonous Slovenian communities in Austrian Carinthia and Styria play in the nurturing of bilateral ties. She expressed satisfaction at a series of positive developments in relation to the Slovenian community in Austria along with a clear expectation for further enhancement of their rights in accordance with Article 7 of the Austrian State Treaty and the Austrian government programme.
The Russian aggression on Ukraine has turned into a protracted war, which will have devastating consequences for the Ukrainian people and the global population due to food insecurity and the uncertainties in the energy markets. The ministers agreed that the European Union must continue to demonstrate unity and determination in ensuring support and assistance to Ukraine and its people.
During their talks, the high officials devoted special attention to border security. They were in firm agreement on the need to ensure effective functioning of the Schengen area with the necessary protection of external borders and a gradual lifting of internal border controls. Minister Fajon reiterated Slovenia's position that the Austrian border controls represent a disproportionate measure given the current security threats, and expressed the expectation that the measures be lifted thus facilitating the daily lives of citizens on both sides of the border.
The ministers underscored the importance of a united EU response in ensuring the security and stability of the neighbourhood, which is in the interest of both countries. Minister Fajon was pleased to note that Slovenia and Austria share similar views regarding the need to offer Western Balkan countries a clear European perspective with concrete commitments.
Slovenia and Austria are close economic partners. Austria is Slovenia's fourth most important foreign trade partner, and ranks first in terms of investment in the Slovenian economy, second in terms of overall service trade and second in terms of tourist arrivals.
In the framework of his visit, Minister Schallenberg paid courtesy calls on the Prime Minister Robert Golob and President of the Republic of Slovenia Borut Pahor.