Marjan Šarec took over the duties of the Minister of Defence
On Thursday, June 2, the handover of business between the current Minister of Defence, Matej Tonin, MSc, and the new Minister of Defence Marjan Šarec.
When taking over the business, the new Minister of Defence, Marjan Šarec, said that he and the current Minister, Matej Tonin, MSc, had a thorough conversation about the processes taking place at the ministry and the future. He thanked his predecessor for leading the department in the last two years, which were marked by turbulent and unforeseen events. Among the tasks of the new team, Minister Šarec pointed out the stopping of the outflow of personnel from the Slovenian Army. As he said, the team will continue with practices that have proven to be good. He announced visits to units of the Slovenian Army and units from the field of protection and rescue. At the same time, he emphasized the importance of good relations for the benefit of the collective and the state, as the motto of the ministry is to work for the good of Slovenia: "We are here so that our country enjoys security, stability and that citizens feel safe."
The current Minister, Tonin, MSc, congratulated Marjan Šarec on his appointment and wished him successful work. He summed up the main points of his team's work and expressed satisfaction that it had managed to complete many projects.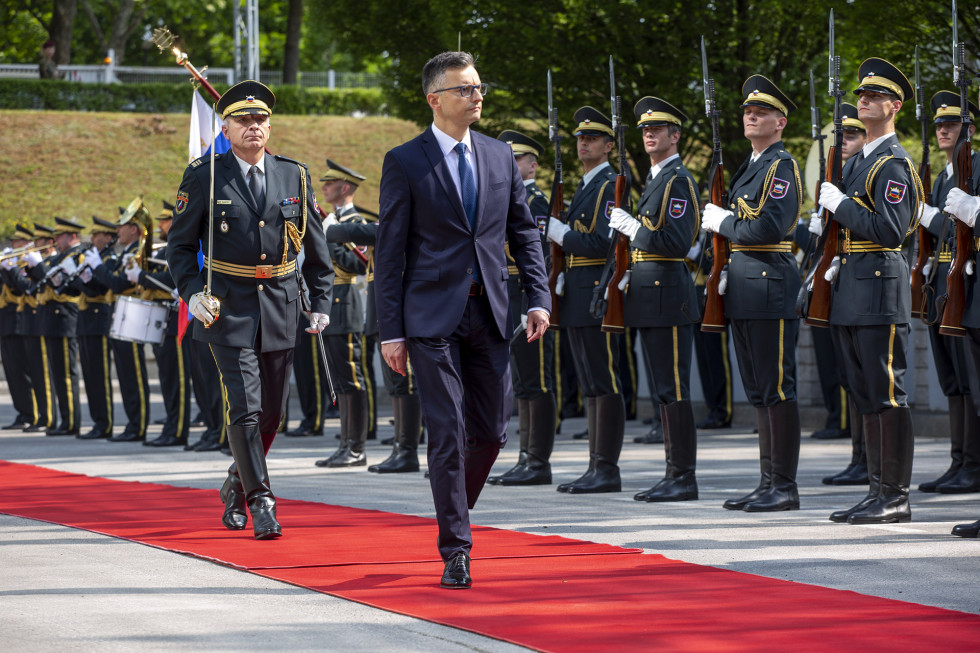 The handover of business between the current Minister of Defence, Matej Tonin, MSc, and the new Minister of Defence Marjan Šarec
The handover of business between the current Minister of Defence, Matej Tonin, MSc, and the new Minister of Defence Marjan Šarec