State Secretary Dr Raščan's discussion with Mexico's Undersecretary for Foreign Affairs Moreno Toscano
Ministry of Foreign Affairs
On the occasion of the 30th anniversary of the Mexican recognition of Slovenia on 22 May 1992, State Secretary Dr Stanislav Raščan held an audio-video conference with the Undersecretary for Foreign Affairs of Mexico, Carmen Moreno Toscano.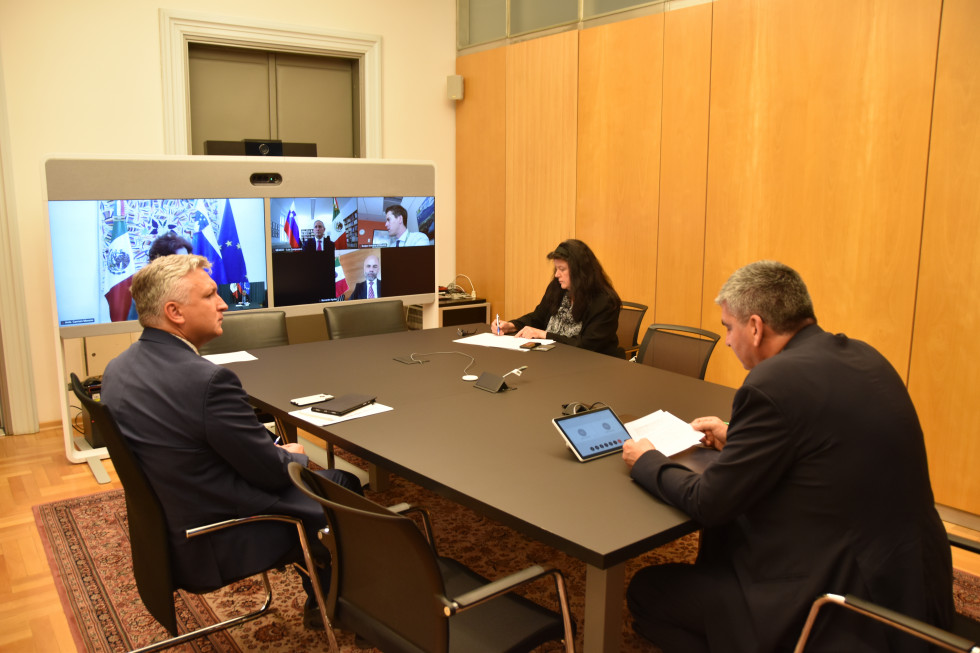 State Secretary Stanislav Dr Raščan during the audio-video conference
Audio-video conference with State Secretary Dr Raščan and Mexican Undersecretary for Foreign Affairs Moreno Toscano
The senior officials expressed their satisfaction with the positive relations that had been developed between Slovenia and Mexico in a number of areas over the past three decades, advocating their further strengthening. The two countries are important economic partners and regularly consult on all key international issues. Further exchange of visits between Ljubljana and Mexico City will enhance the cooperation at both the political and working levels.
Slovenia and Mexico also enjoy constructive cooperation in various forms of partnership between the European Union and Latin America and the Caribbean. The two officials expressed their high expectations for the envisaged conclusion of a new agreement between the EU and Mexico, which will reinforce their strategic relationship.
Last year, Slovenia and Mexico co-chaired the Council of the EU and the Community of Latin American and Caribbean States (CELAC). This was also reflected in their joint participation in events aimed at deepening relations between the two regions in areas such as the circular economy, social cohesion and digitalisation. New opportunities also arise from Slovenia's status as an Observer State in the Pacific Alliance (Mexico and three other Latin American states).
The two sides also pointed to their successful cooperation in multilateral fora. Slovenia and Mexico share many views on issues addressed within the United Nations and the Organization for Economic Cooperation and Development (OECD).
State Secretary Dr Raščan thanked Undersecretary for Foreign Affairs Moreno Toscano for Mexico's participation in the Latin America and Caribbean Days (LAC) conferences so far. He also informed the Commission that the 4th conference will take place this autumn; the event has been organised by the Ministry of Foreign Affairs since 2018.