World Bee Day event in Spencer, Ohio
On May 21, a big event took place at the Right Queen Colonies farm in Spencer, Ohio, where the Consulate General celebrated all three Slovenian projects, which have been successfully implemented in Ohio and other US states for the past 3 years already: World Bee Day, Planting Honey-bee Friendly Plants Day, and Traditional Healthy Honey Breakfast .
Around 200 visitors were able to attend an educational workshop on beekeeping, see a bee farm and many other domestic animals, honey and wax products, taste honey dishes, learn about Amish life, and the younger visitors could attend children's program with games, bee workshops and ride in the Amish carriage. There was even a "World Bee Day" cake available!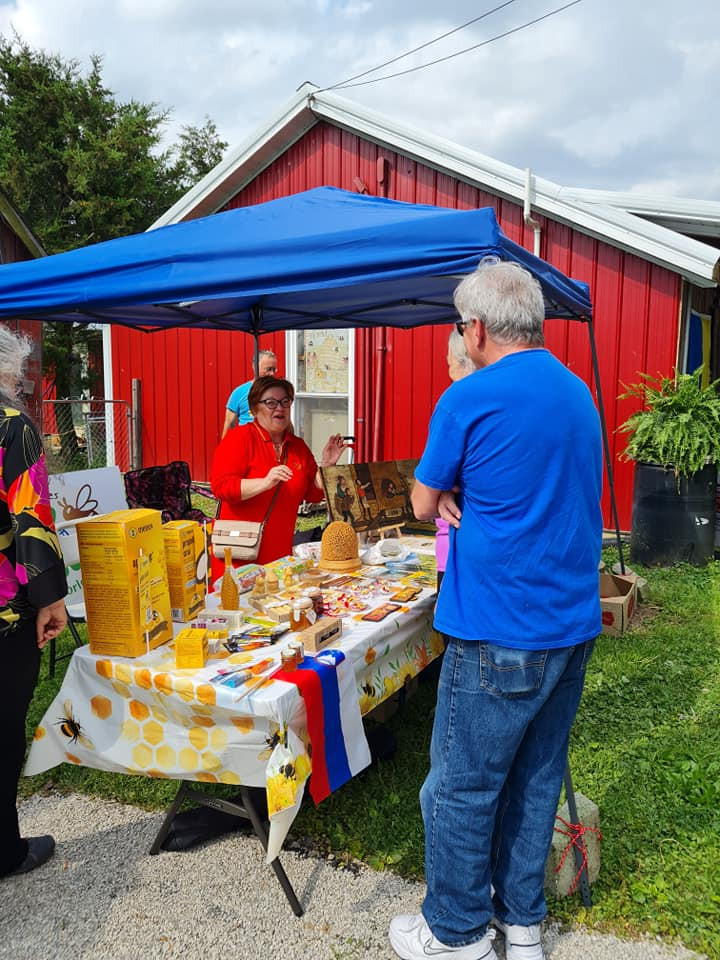 Bee hives
A group of volunteers participating in the event
The Consulate General distributed the seeds of honey-bee friendly plants, presented the products of Medex, Fermedica and introduced Slovenian beekeeping in general. Consul General Alenka Jerak highlighted Slovenia's efforts and achievements in raising awareness of the importance, impact and global protection of bees for the future of our planet.
A sincere thank you goes to the co-organizers of the event - Ohio Beekeepers Association, Collaborative Chambers Alliance, Euclid Chamber of Commerce, the hosts and volunteers at the Right Queen Colonies, Loraine County Beekepers Association and many sponsors!
As before, the funds obtained from entrance fees, registrations and donations will be used for student educational workshops with beekeepers and the purchase of ingredients for the Traditional Honey Breakfast in schools in Cleveland, Euclid and all three Slovenian schools in the USA. This year, for the first time, the Consulate General will be organizing a healthy honey breakfast with locally grown food for American veterans, who delighted us today with an additional donation.