Minister Logar confirms Slovenia's support for NATO's open-door policy at NATO's informal meeting
Ministry of Foreign Affairs
Minister of Foreign Affairs Dr Anže Logar attended a two-day informal meeting of NATO ministers of foreign affairs in Berlin. The ministers discussed the current security challenges resulting from the Russian invasion of Ukraine.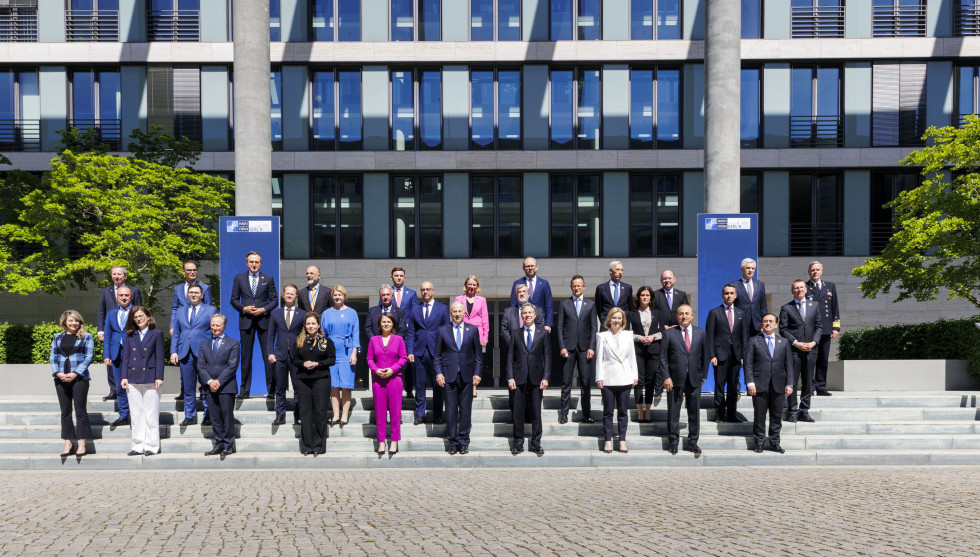 Minister Logar talking to UK Secretary of State Liz Truss
The informal meeting of NATO ministers of foreign affairs
Minister Logar taking part in the informal meeting of NATO ministers of foreign affairs in Berlin
Minister Logar meeting Finnish Minister Pekka Haavisto in the margins of the meeting
Minister Logar meeting Montenegrin Foreign Minister Ranko Krivokapić
Russia's aggression in Ukraine persists and represents the biggest threat to Euro-Atlantic security in decades; the Alliance is therefore adjusting its deterrent and defensive stance. Russia's new offensive in Donbas is causing ever greater human suffering and material damage. By providing assistance to Ukraine, Slovenia supports the country's right to self-defence, which is also enshrined in the United Nations Charter.
The ministers held talks with Finland and Sweden on the national security debates taking place in both countries. Finland and Sweden are NATO's closest partners, fully interoperable with the Alliance's armed forces. Slovenia has always been a supporter of NATO's open-door policy and advocates the view that every country has a sovereign right to a sovereign foreign policy and its own security arrangements. Consequently, we fully respect the right of Finland and Sweden to decide on their own NATO membership applications. We believe that NATO's door must remain open to European countries wishing to join and meeting the conditions for membership.
The discussion at the informal meeting also touched on the preparations for the Madrid Summit in June and NATO's new Strategic Concept, which the leaders are expected to adopt at the Madrid Summit. The Strategic Concept provides an important opportunity for NATO's political and military adaptation in times of increased global security risk. It will also have to reflect the new reality caused by the Russian invasion of Ukraine.
In the margins of the informal meeting, Minister Logar met with Pekka Haavisto, Minister of Foreign Affairs of Finland, and Ranko Krivokapić, Minister of Foreign Affairs of Montenegro.