Prime Minister Janez Janša meets Croatian Prime Minister Andrej Plenković
Former Prime Minister Janez Janša (2020 - 2022)
Yesterday Prime Minister Janez Janša met with the Prime Minister of the Republic of Croatia, Andrej Plenković, in Zagreb. The meeting was held to continue the dialogue between the two countries at the highest level, review current bilateral and European issues, and exchange views on the situation in Ukraine, especially in light of the discussions at the recent extraordinary NATO summit and the European Council meeting.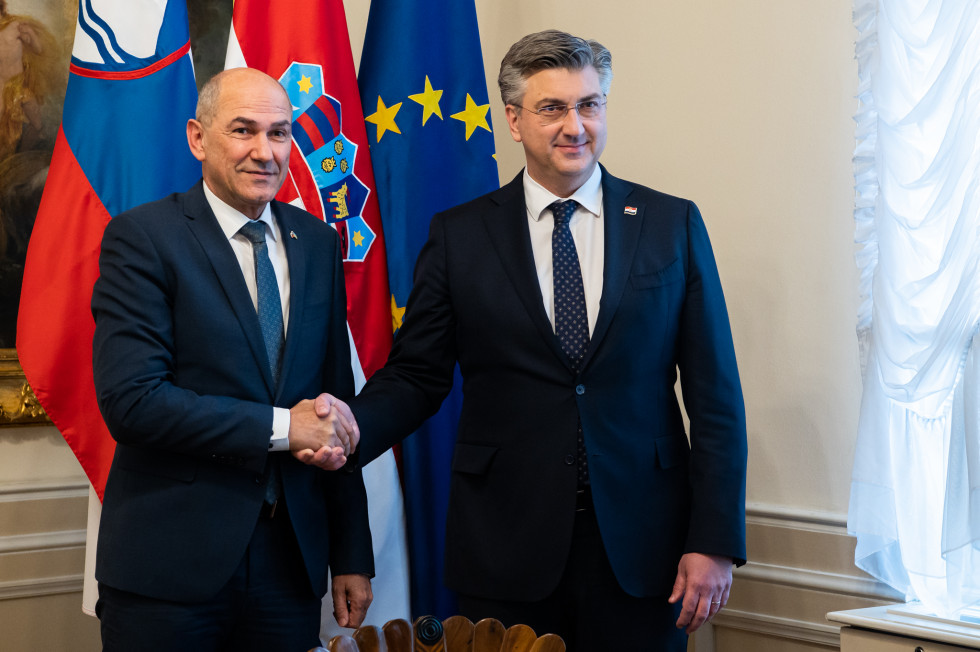 PM Janez Janša met with the PM of the Republic of Croatia, Andrej Plenković.
Prime Ministers Janez Janša and Andrej Plenković during talks.
Talks between Slovenian and Croatian delegations.
Prime Ministers Janez Janša and Andrej Plenković talk to the press.
Prime Ministers Janez Janša and Andrej Plenković talk to the press.
PM Janez Janša during the press conference.
One of the main topics of the talks was the strengthening of bilateral cooperation in ensuring a secure, reliable and affordable supply of energy resources, in particular natural gas. The meeting of the two prime ministers and delegations was followed by a press conference.
"If my count is correct, this is our eighth bilateral meeting in the last two years during my time as head of the Slovenian Government, having filled the gaps from before when there were no meetings," the Slovenian Prime Minister said in his opening remarks, thanking his Croatian counterpart for his hospitality and for all the meetings held so far. "Today we have continued the discussion on outstanding issues, which are easier to resolve in an amicable atmosphere," said Prime Minister Janša, thanking Croatia for its constructive role in the European Council. "At this time, when I can closely observe the work and positions of the Croatian Government in the European Council, I can tell that we are among those who have a realistic view of the situation in the region and the broader world," said the Prime Minister, adding that only a realistic view will bring timely solutions. "You have all our support for pursuing membership in those integrations where Slovenia is already a member while Croatia is still a candidate country. You also have support for stabilising the situation in Bosnia and Herzegovina", the Prime Minister said, adding that, even in dealing with these issues, the key to making progress was "a realistic view by those who are familiar with the situation from up close and not just in theory".
"Today we have talked a lot about how to adapt to the situation that changed after 24 February, that is, after the Russian aggression against Ukraine began. After that, the world changed and we will be adapting to these changes for some time to come," said the Prime Minister, adding that one of the changes that require real-time action is a relatively quick and definite move away from Russian energy. "A large part of Europe is wholly or partly dependent on energy imports from Russia and, at the moment, anything that presents an alternative to these imports and dependence is a European priority," said Prime Minister Janša. He congratulated Croatia on its timely decision to build a liquefied natural gas terminal.
"EU leaders are trying to find some common approaches across national borders and within the EU with regard to supply, transport routes and other necessary logistics; gas, however, provides only a small share of the energy required for a normal life in Europe. Nuclear energy is also very important, and after our common efforts it is now considered, within the European rules, to be a part of the solution and not part of the problem in terms of climate change," said Prime Minister Janša. "There are many opportunities for bilateral cooperation when it comes to meeting the energy needs of both Slovenia and Croatia. In the future, the relevant ministries will examine the possibilities for such cooperation in relation to joint investments in Unit 2 of the Krško Nuclear Power Plant (NEK) and to liquefied gas capacities. With respect to liquefied gas capacities, we will see, if we are not seeing it already, an increased interest from a number of other Central European countries, given that many other parts of Europe have a much higher dependence on Russian gas than Slovenia does," the Slovenian Prime Minister said.
Prime Minister Janša also thanked the Croatian Prime Minister for his very realistic and constructive view of the developments in Ukraine. "In this regard, too, those of us in the European Council with experience from 30 years ago have a more realistic understanding of what needs to be done and what measures need to be taken to ensure that peace prevails in Ukraine. We are fighting on the same side for the prevalence of reason and a realistic approach, and the contributions of both Slovenia and Croatia in finding these solutions transcend our geographical latitudes and kilometres," said Prime Minister Janša, highlighting Prime Minister Plenković's knowledge of the situation in Ukraine.
The two prime ministers continued by answering questions from the press. With regard to open questions concerning the resolution of the border issue and the special fishing regime, the Prime Minister said, "we are working on it, looking for solutions. I am moderately optimistic about that, and I believe that solutions can be found in a relatively short time," he said, adding that it was much easier to search for solutions in a friendly and constructive atmosphere than in one without discourse. "If you talk, you come up with a solution that was perhaps not even on the horizon before you started talking, and if you don't talk, you don't even have the possibility to search for solutions," said the Prime Minister.
The Prime Minister also estimated that, given the current situation, it was absolutely necessary to consider building new pipeline capacities. "Considerable EU funding will be available for this purpose, this being one of the priorities for the entire Europe, so financing won't be an issue, and those who act fast will get the funding faster, and this is also one of the reasons why me and my Croatian colleague met only a few days after the European summit," said the Prime Minister.
According to the Slovenian Prime Minister, the timeline for constructing the NEK 2 has already been approved on the government level. He also said that the local environment in Krško and the Posavje region was in favour of the project. The Prime Minister called attention to Slovenia's commitment to close the Šoštanj Thermal Power Plant, which accounts for a third of the country's energy until 2033. "Realistically, we can do it when Unit 2 of the NEK is in operation, so this is the first, most optimistic option; however, we all know that building the NEK 2 is a challenging project, but it is believed that less time will pass from the beginning of construction to its operation than for the construction of Unit 1," said the Prime Minister.
On the topic of help to Ukrainian refugees, the Prime Minister said that Slovenia was prepared to receive a proportionate number of refugees from Ukraine based on the country's size and population. "The current numbers are similar to those in Croatia, but they are changing daily because many who register in Slovenia move on, mainly to Italy, which has a strong Ukrainian community," said the Prime Minister. In his personal opinion, refugee numbers will continue to grow. "Right now, there are 11 million people displaced, namely those who were forced to leave their homes, and this wave poses a test of solidarity for Europe. At last week's discussion, not a single European country had problems with solidarity, but our goal is not for half of Ukraine to move to Europe, our goal is to establish peace in Ukraine and for the wives and children to return to their husbands and fathers as soon as possible," added Prime Minister Janša.
"Slovenia is part of the EU and part of the European energy market, so we are not considering pulling out of that, but we are thinking about securing enough capacities to ensure our energy self-sufficiency, even if this market is in trouble, and I believe that is the aim of every country," said the Prime Minister when asked about energy dependency. According to him, one of the threats we are not aware of are cyberattacks on electricity grids. "If serious attacks of this kind occurred, capacities for something like this do exist, the Russian Federation tested them on Ukraine before its armed aggression, this European network could break down, and it would take a while to get it going again, not to mention other threats; that said, we are not planning on leaving the common energy market, but we are working on ensuring that we have sufficient capacities, also because, as we have seen recently, price pressures are making or forcing individual governments to adopt certain measures to mitigate the energy crisis," said the Prime Minister. The Prime Minister also said that it was in Slovenia's interest to buy potential additional energy product capacities. "Like I said before, if everyone had thought ahead, like Croatia had by building the LNG terminal, Europe's predicament, when it comes to its reaction to the situation in Ukraine, would have been far less dire," concluded Prime Minister Janša.