State Secretary Raščan holds talks with Deputy Foreign Minister of Peru
Ministry of Foreign Affairs
On the 30th anniversary of Peru's recognition of the Republic of Slovenia, which took place on 17 March 1992, State Secretary Stanislav Raščan held an audio-video discussion with Ambassador Luis Enrique Chávez Basagoitia, Deputy Foreign Minister of the Republic of Peru.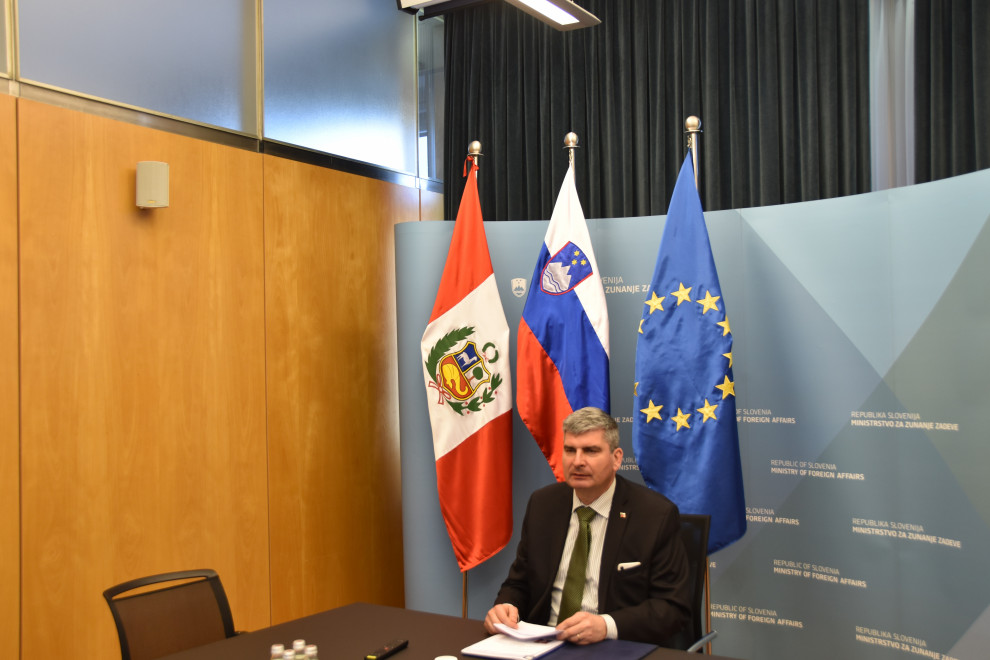 Talks of State Secretary Raščan and the Deputy Foreign Minister of Peru
State Secretary Raščan reiterated his appreciation for Peru's recognition of Slovenia 30 years ago, underlining that the decision of most South American countries to take this step just a few weeks after the recognition of the European partners gave us encouragement and trust as a new member of the international community. He outlined the role of the Slovenian community in Peru, which continues to be a strong connecting factor between the two countries.
The two senior officials expressed their satisfaction with the good relations that the two countries have developed over the past decades in a number of areas, advocating they be further enhanced, including through the exchange of mutual visits to Ljubljana and Lima.

They also outlined the good cooperation in multilateral fora and various initiatives that has been a link between the two countries for many years. They praised the activities and integration carried out in the regional context, in particular in the context of EU-Latin America and Caribbean cooperation. Deputy Minister Chávez Basagoitia thanked Slovenia for the recent invitation of the OECD to the accession negotiations.

They encouraged further activities in all areas of common interest, both bilaterally and regionally, most notably scientific research, digitalisation, artificial intelligence, circular economy, tourism and youth exchange. They underlined the importance of deepening ties between the two countries.

State Secretary Raščan expressed his appreciation of Peru's participation in Latin America and Caribbean Days (LAC Days), an international conference of the Ministry aimed at enhancing links with the region, proposing a reflection on the presentation of Peru as a country in focus at the next LAC Days and a high-level visit.