EU ministers of the interior unanimously condemn Russian aggression in Ukraine
Minister of the Interior Aleš Hojs has attended the extraordinary meeting of the Justice and Home Affairs Council in Brussles, convened by the French presidency. EU ministers of the interior met to discuss provision of humanitarian support to Ukraine, reception of refugees and the underlying aspects regarding the activation of the directive on temporary protection, management of the external borders, measures on visas and anticipation of hybrid threats.
As Minister Hojs said in the public statement, EU ministers of the interior have unanimously condemned Russian aggression in Ukraine and agreed on a unanimous response.

Slovenia supports the activation of the directive on temporary protection, seeing it as highly relevant. "We have already started the activities – preparation of accommodation facilities and coordination between official services and ministries – to ensure adequate support for persons seeking refuge. Slovenia is currently ready to receive 180–200,000 refugees."

The 2001 previously inactivated directive on temporary protection granting persons a protection status for a limited time (one year with the possibility of two six-month extensions) will be enforced in all member states. The directive also determines the standard of rights to be provided by the member states.

Hojs expressed the support for activities in the scope of the EU Crisis Response mechanism (IPCR): "Slovenia has already donated equipment, and also responded by providing support in military equipment. It will continue to participate in the mechanism in the scope of its possibilities," he added.

Slovenia welcomed the introduction of visa measures against certain groups of Russian nationals, whereas the Minister believes they should be additionally tightened and extended in scope.

On the issue of hybrid threats, the Minister said that Slovenia has not detected any major hybrid attacks on its systems so far: "We are on high alert to prevent to the highest extent any attacks on Slovenian infrastructure or key systems."

The Ministers also backed continued border controls on the external EU borders. Hojs said that Slovenia is not planning to set up a checkpoint on the internal Schengen border with Hungary (where the largest influx of persons could potentially occur) and that accelerated data exchange has already been agreed with the Hungarian Minister. Slovenia is also in contact with other countries neighbouring Ukraine with the view of agreeing similar data exchange arrangements, the Minister said.
Slovenia has published a web site with information on Slovenia's assistance to the citizens of Ukraine.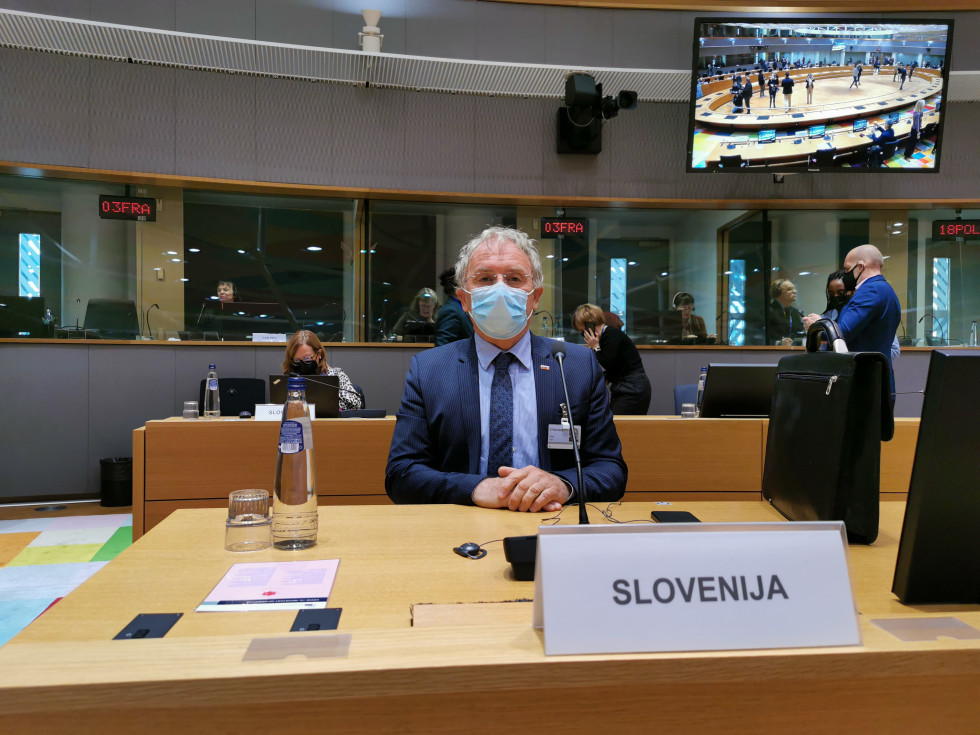 Minister Aleš Hojs talks with fellow ministers before the session
Estonian Interior Minister Kristian Jaani and Slovenian Interior Minister Ales Hojs
Portuguese State Secretary for the Interior Patricia Gaspar and Minister Aleš Hojs