Slovenia hands over the Presidency of the Council of the EU in development cooperation to France
State Secretary Stanislav Raščan passed the presidency baton in the field of development cooperation to his counterpart French State Secretary Jean-Baptiste Lemoyne.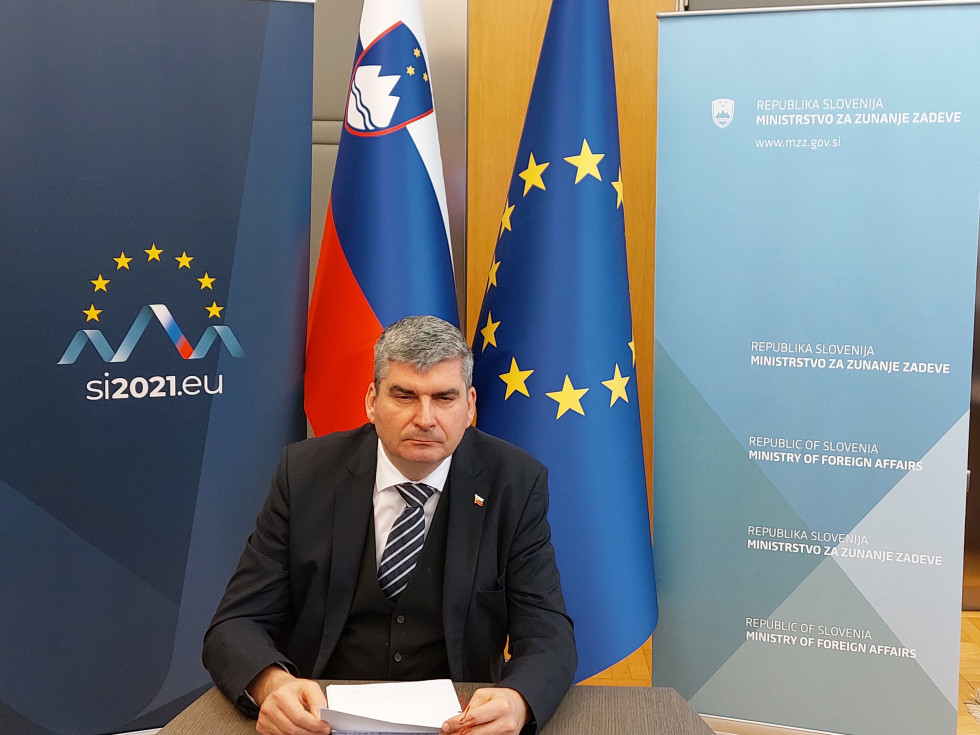 Jean-Baptiste Lemoyne assumed responsibility for development cooperation in the presidency from Stanislav Raščan
The meeting took place via audio-video conference, in which they were joined by Francisco André, Portuguese Secretary of State for Foreign Affairs and Cooperation, and Jochen Flasbarth, German State Secretary in the Federal Ministry for Economic Cooperation and Development.
The State Secretaries exchanged views on the key dossiers in this area, including the final stage of preparations for the conclusion of the new agreement between the EU and African, Caribbean and Pacific states (the Post-Cotonou Agreement), the implementation of the new Neighbourhood, Development, and International Cooperation Instrument (NDICI – Global Europe), and the importance of water in addressing climate change and preserving biodiversity. The talks also focused on the issue of global health, the post-pandemic recovery and the associated issue of vaccine distribution to partner countries.

State Secretary Stanislav Raščan briefly outlined the achievements of the Slovenian Presidency in development cooperation, the most prominent of which are the adoption of the Council conclusions on European Public Sector Expertise in the EU's External Action and similarly on water in the EU's External Action.
"We are striving to achieve a more integrated approach to water that would increase the effectiveness of our external action in this field. We believe that the Council conclusions adopted at the meeting of development ministers in November will reinforce the role of the European Union's water diplomacy," underlined State Secretary Raščan.
French State Secretary Jean-Baptiste Lemoyne presented the French Presidency programme, which will largely focus on strengthening development partnerships on climate change and biodiversity, particularly with the least developed countries in the world.