State Secretaries Dovžan and Raščan discuss Slovenian Presidency with a Canadian delegation
Ministry of Foreign Affairs
State Secretaries Gašper Dovžan and Stanislav Raščan held separate talks with Special Envoy for the European Union and Europe and Ambassador of Canada to Germany, Stéphane Dion, Ambassador of Canada to the EU Ailish Campbell and non-resident Ambassador of Canada to Slovenia Caroline Charette via video conference.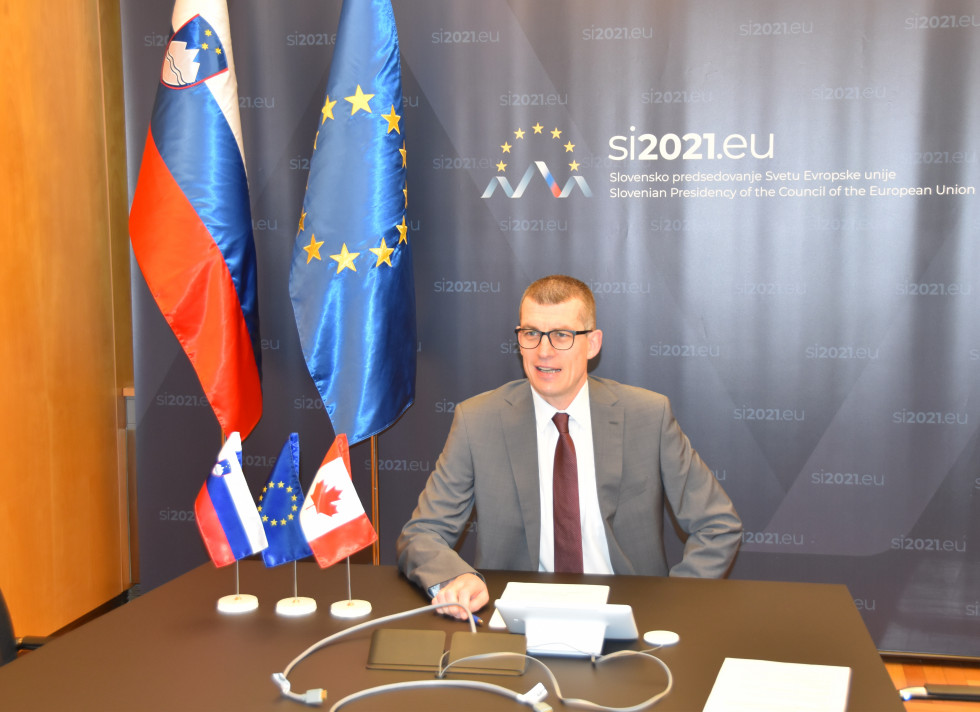 Canadian delegation via video conference
State Secretary Stanislav Raščan talks to the Canadian delegation via video conference
They shared their interest in further deepening bilateral and multilateral cooperation, including within NATO and the Canada-European Union Strategic Partnership, and welcomed Canada's active engagement in the Western Balkans.
The State Secretaries agreed that Slovenia and Canada enjoy a well-established political dialogue, with relations being excellent and without open questions. The two countries are partners and allies united by shared values and interests on a range of regional and global issues.
State Secretary Dovžan exchanged views on European and other topical global topics, focusing on the priorities and achievements of the Slovenian Presidency of the Council of the European Union. Most of the discussion was devoted to European topics, chief among them coordinated responses to the consequences of the COVID-19 pandemic and economic recovery, green transformation, migration, the fight against global change and the Conference on the Future of Europe.
State Secretary Raščan and his Canadian counterparts confirmed their mutual interest in further strengthening the bilateral partnership in political, economic, cultural, educational, security and other fields. They also discussed current NATO developments and the situation in the Western Balkans and other current foreign policy topics.