Minister Logar attends the European Parliament plenary session in Strasbourg
From 18 to 21 October, Minister Anže Logar attended the European Parliament plenary session as Slovenia's high representative for the relations between the Council and the Parliament.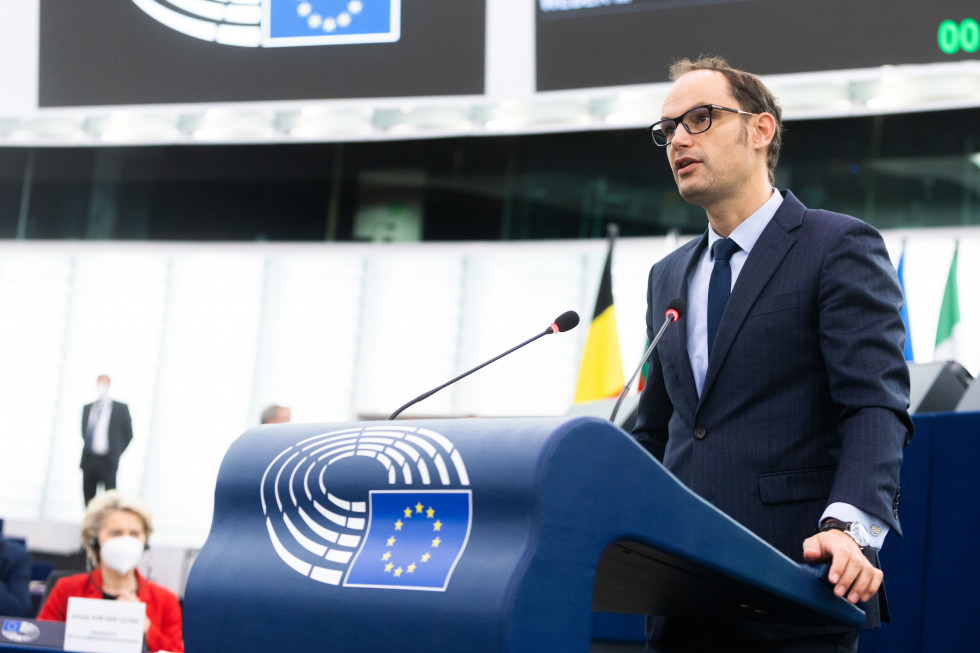 Minister Anže Logar at the European Parliament Plenary Session
Minister with EP committee chairs
In the discussion on the rule-of-law crisis in Poland and the primacy of EU law, Minister Logar underlined that "the EU institutions and the Member States have a shared responsibility to respect, protect and promote our common values, as enshrined in the Treaties."
On climate, energy and environmental state aid guidelines, the minister pointed out that the new rules on state aid for climate, energy and environment are necessary to support projects that will contribute to achieving climate neutrality. "At the UN Human Rights Council, the EU supported a resolution proposed among other countries also by Slovenia. For the first time, the resolution recognises that a clean, healthy and sustainable environment is a human right," said Minister Logar.
The minister exchanged views with EP committee chairs on the progress in Slovenia's presidency priorities, focusing on economic recovery and resilience and the achievements of the EU–Western Balkans Summit held on 6 October in Slovenia. "Slovenia has a full and ambitious agenda for the rest of the year in the areas of health, transport, telecommunications, energy and the environment," concluded Minister Logar.
In his speech on the preparations for the UN Climate Change Conference COP26, the minister announced that the EU was determined to leave Glasgow with a stronger climate ambition at the global level, in line with the long-term goals of the Paris Agreement.
Minister Logar also took part in the discussion on the preparations of the next European Council and the rise of right-wing extremism and racism in Europe. The topics included the first anniversary of the ban on abortion in Poland, the global tax deal to be reached at the G20 Summit in Rome, and the pushback of migrants at the EU's external borders.
At the last day of the plenary session, the minister presented the outcome of the EU–Western Balkans Summit. "At the Summit we reaffirmed the European perspective of the region and underlined our continued commitment to the enlargement process and to supporting social and economic progress."