Minister Logar with Foreign Minister of Bosnia and Herzegovina Turković on bilateral cooperation and Slovenia's support to BiH on its European path
Ministry of Foreign Affairs
Minister of Foreign Affairs Anže Logar today hosted Deputy Chairperson of the Council of Ministers and Minister of Foreign Affairs of Bosnia and Herzegovina Bisera Turković on a working visit to Slovenia. Their discussion focused on bilateral cooperation in various areas, particularly the economy, and on Slovenia's support for the European perspective of Bosnia and Herzegovina.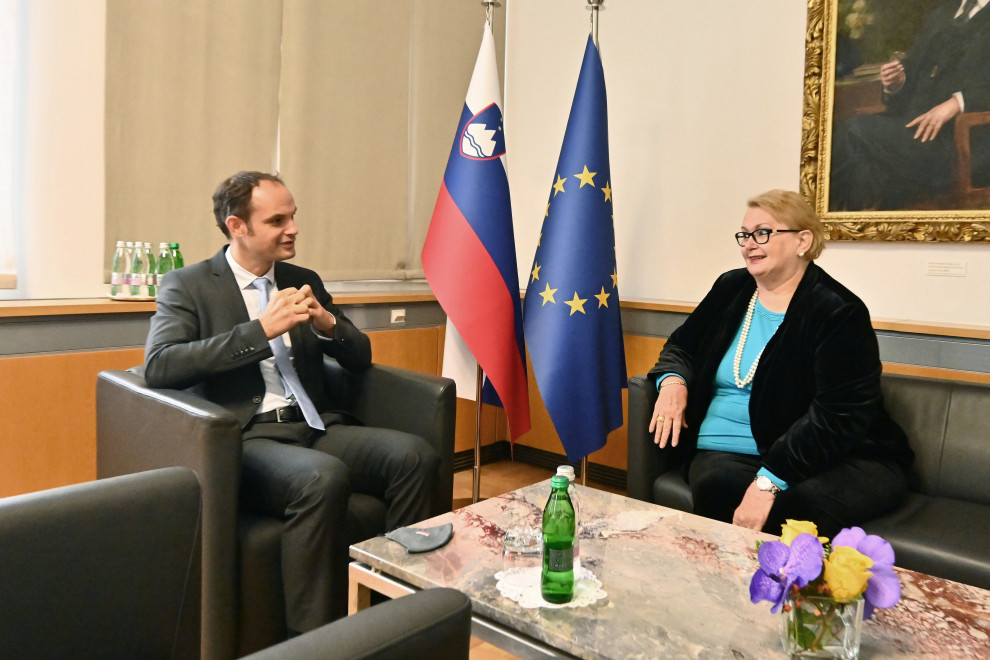 Press conference
Bilateral meeting
Foreign Ministers at Bled
In light of the recent EU-Western Balkans Summit hosted on 6 October 2021 by Slovenia as the country holding the EU Council Presidency, the two Ministers addressed the progress of Bosnia and Herzegovina on its path towards the EU. Minister Logar pledged Slovenia's support on the path of a united and sovereign Bosnia and Herzegovina towards the European Union. He went on to underline the country's need to implement the 14 priorities identified by the European Commission in its Opinion on Bosnia and Herzegovina's EU membership application as they provide an appropriate framework and guidelines for further reforms in the country.
The Ministers reviewed bilateral cooperation and agreed that the relations between the two countries are positive and friendly. Minister Logar also drew attention to the unresolved issue of the status of ITF – Enhancing Human Security, which has been operating successfully in Bosnia and Herzegovina since 1998, and called for its quick resolution.

A part of the discussion was dedicated to the key challenge that both the Union and Western Balkan countries are currently facing. The two Ministers agreed that the economy that has been severely affected by the COVID-19 pandemic should recover in a way that will actively contribute to reducing inequalities between the countries in the region and EU member states. Minister Logar pointed to the need to put into practice the economic and investment plan for the region as soon as possible and provide the necessary executive bases by no later than the end of this year.

The high officials exchanged views on the current political and economic situation in the country and the wider region, specifically addressing the issue of migration and the exposure of Bosnia and Herzegovina on the Western Balkan migration route. Minister Logar emphasised that Slovenia will continue to support cooperation between the EU and BiH in migration management. Frontex can play a significant role in this regard.

Minister Turković thanked Minister Logar for assistance and political support that Slovenia is providing to Bosnia and Herzegovina on its path towards the EU as well as for Slovenia's donations of vaccines and other equipment during the pandemic.
The visit, which is the first bilateral visit of Minister Turković to Slovenia, is a continuation of the regular dialogue between the two ministries of foreign affairs.