Minister Logar expresses support for the EU's enlargement process at the Western Balkans Speakers' Meeting
Minister of Foreign Affairs Anže Logar addressed the participants of the Western Balkans Speakers' Meeting at Brdo pri Kranju as part of the parliamentary dimension of the Slovenian Presidency of the Council of the European Union. "The enlargement policy has a transforming power and is a prerequisite for a stable, secure and democratic Europe," declared Minister Logar in his introductory speech.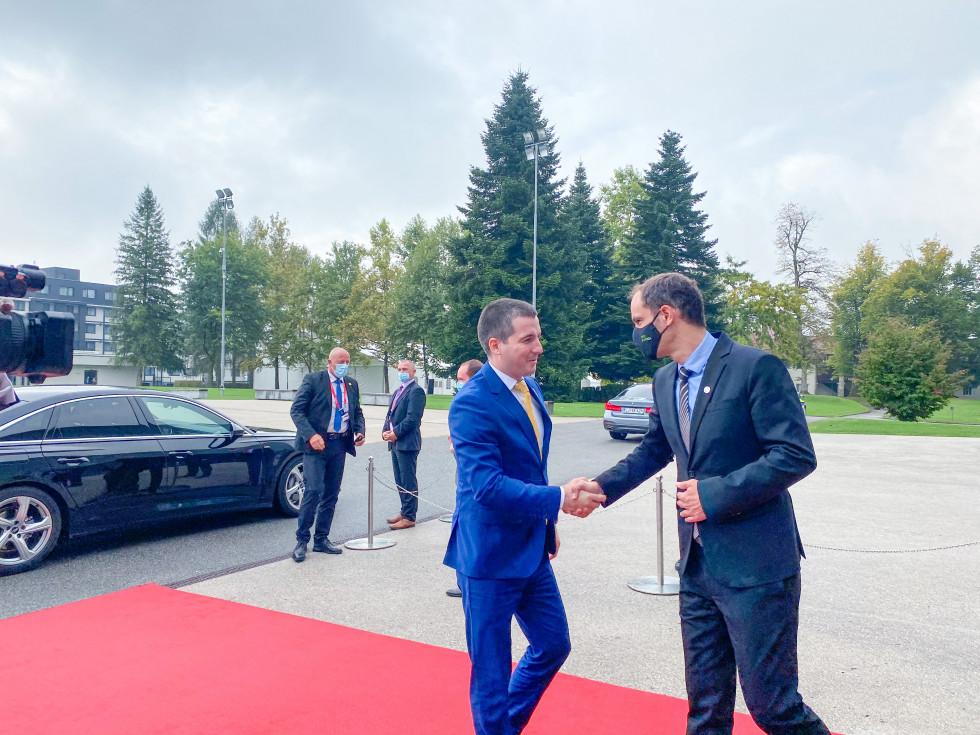 Minister Anže Logar at the meeting with Montenegro's Parliament Speaker Aleksa Bečić
The sustainable development, stability and prosperity of the Western Balkans are vital for the prosperity of citizens in the region and the European Union. "Slovenia continuously strives to make further Union enlargement to the Western Balkans a strategic priority of the countries in the region and member states," added the Minister. He underlined that ambition and political will on both sides are necessary to achieve this goal, calling for continued reform processes in the region.
Slovenia as the country presiding the Council of the EU strives to reach consensus about the negotiation frameworks for Albania and North Macedonia as well as continuing the negotiation process with Serbia and Montenegro. Minister Logar spoke of his hope that the Intergovernmental Conferences with Serbia and Montenegro would be held during the Slovenian Presidency. He also stressed the importance of resolving outstanding issues and of constructive cooperation in the Belgrade-Pristina dialogue, both of which are important requirements on the European path.
On the margins of the Meeting, Minister Logar and Montenegro's Parliament Speaker Aleksa Bečić discussed the internal political situation in Montenegro and the country's European perspective. Minister Logar went on to express support for Montenegro's efforts to join the European Union.
The next opportunity to continue the debates on further EU enlargement and the future of Europe will be at the EU-Western Balkans Summit, which is to be held at Brdo pri Kranju on 6 October 2021.