Minister Logar at the Bled Strategic Forum on cooperation in the North Adriatic, the Mediterranean and the Indo-Pacific
Ministry of Foreign Affairs
Foreign Minister Anže Logar participated in three panels at the Bled Strategic Forum today. The first panel focused on the possibilities of enhanced cooperation in the North Adriatic and the second discussed the geostrategic role of the Mediterranean, while the third emphasised the possibilities of cooperation between the European Union and India in the Indo-Pacific region.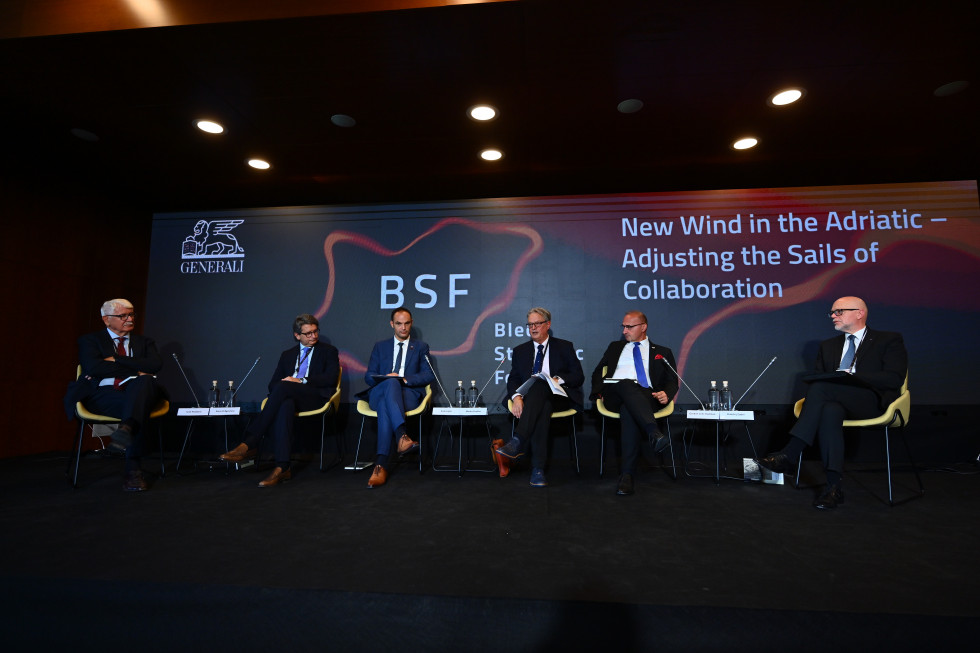 Minister Logar at the "Mediterranean: A Geostrategic Chessboard" panel
Minister Logar at the "Partnership for a Rules-Based Order in the Indo-Pacific" panel
In addition to Minister Logar, the Minister of Foreign and European Affairs of Croatia, Gordan Grlić Radman, participated in the panel entitled "New Wind in the Adriatic – Adjusting the Sails of Collaboration". The semi-closed Adriatic Sea with high maritime traffic density and vulnerable ecosystems requires close cooperation between coastal states. Minister Logar underlined the constructive cooperation of Slovenia, Croatia and Italy in the framework of the trilateral cooperation in the Northern Adriatic, which was established last December. "Such cooperation proves to be a valuable example of solving issues while preserving our interests in the Adriatic," said Minister Logar.
The Foreign Ministers of Slovenia, Cyprus, Greece, Malta and Portugal stressed the importance of stability in the Mediterranean, which is of vital interest to the European Union at the panel entitled "Mediterranean: A Geostrategic Chessboard". Minister Logar said that Slovenia was the only EU member state participating in three of the four macro-regional strategies. "Slovenia is a Mediterranean country sharing the same burden as other countries from the region. We have all learned our lesson and redrafted a strategy for tackling migration," Minister Logar emphasised.
Minister Logar attended the panel entitled "Partnership for a Rules-Based Order in the Indo-Pacific" together with Portuguese Foreign Minister Augusto Santos Silva and Foreign Minister of India Subrahmanyam Jaishankar.

He pointed out that Slovenia was striving for a common EU approach to the Indo-Pacific region. "It is of vital importance for the EU to broaden its horizons and strike up new partnerships in the region, with India as a natural candidate. As the current chair of the Council of the European Union, Slovenia considers this a priority and expects dialogue to be enhanced," stressed Minister Logar.