Minister Logar and Indian External Affairs Minister Jaishankar on enhancing cooperation between the two countries
Ministry of Foreign Affairs
Minister Anže Logar today hosted Dr Subrahmanyam Jaishankar, External Affairs Minister of the Republic of India. This is the first visit to Slovenia at the level of foreign ministers in 30 years. The Indian Minister is also a guest of this year's Bled Strategic Forum and will be attending a working lunch on the margins of the informal meeting of EU foreign affairs ministers (Gymnich) at Brdo pri Kranju.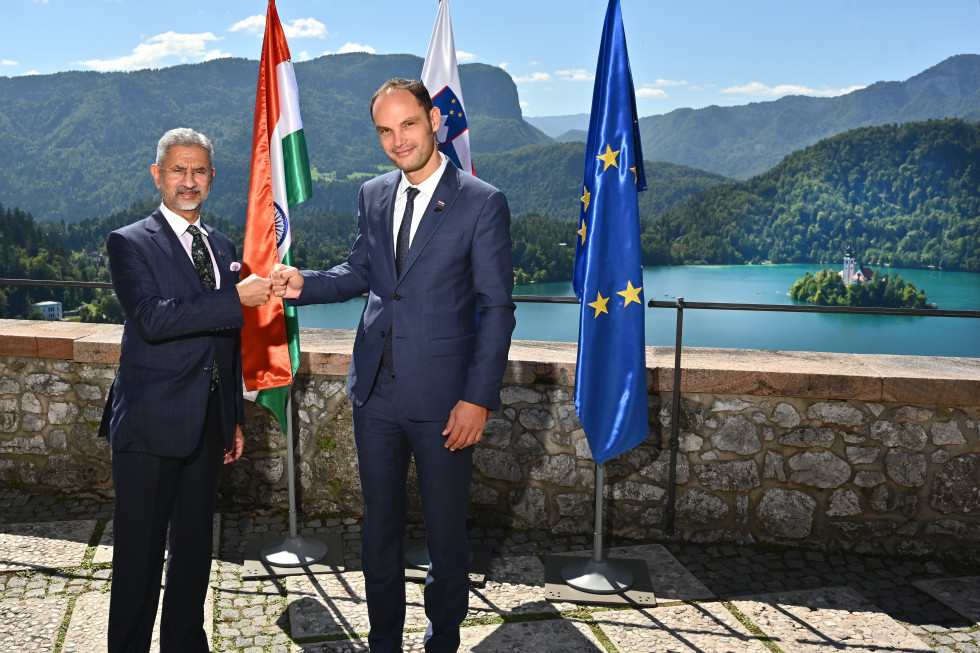 Ministers during the media statement
Ministers during the media statement
Both ministers agreed that relations between their two countries are excellent and friendly and that they will be further developed in the future. They described the economic cooperation between Slovenia and India as very good. India is Slovenia's second-ranking foreign trade partner in Asia. Minister Logar highlighted the Port of Koper among the possibilities for upgrading economic cooperation between the two countries, as Koper has strong potential to become a strategic port for Indian exports to the markets of Central and Eastern Europe.

Minister Logar congratulated Minister Jaishankar on India's determined action in the fight against the pandemic, thanking India for solidarity in the fight against COVID-19 and for supporting and assisting in the repatriation of Slovenian citizens.

The ministers agreed that the Indo-Pacific region is becoming a global hub in both geo-economic and geopolitical terms. Minister Logar stressed that Slovenia endorses the strengthening of the EU-India strategic partnership and sees India as one of the most important partners in the Indo-Pacific region. "We support the conclusion of a free trade agreement, an investment agreement and the EU-India Comprehensive Connectivity Partnership", said Minister Logar.

Slovenia and India attach great importance to the development of artificial intelligence and cybersecurity. The ministers also advocated cooperation between their two countries in the framework of the Global Partnership on Artificial Intelligence and the International Research Centre on Artificial Intelligence (IRCAI), which operates in Slovenia under the auspices of UNESCO.

Minister Logar presented to his counterpart the priorities of the Slovenian Presidency of the Council of the European Union.