Dutch Deputy Foreign Minister Anita van den Ende visits Slovenia
Today, State Secretary Gašper Dovžan met with Dutch Deputy Minister of Foreign Affairs Anita van den Ende. The main topic of conversation was the strengthening of cooperation between Slovenia and the Netherlands in areas of common interest. In her role as Director General for European Cooperation, Deputy Minister van den Ende also held separate talks with the Director General for EU Affairs Barbara Sušnik and met with the State Secretary in the Office of the Slovenian Prime Minister Igor Senčar.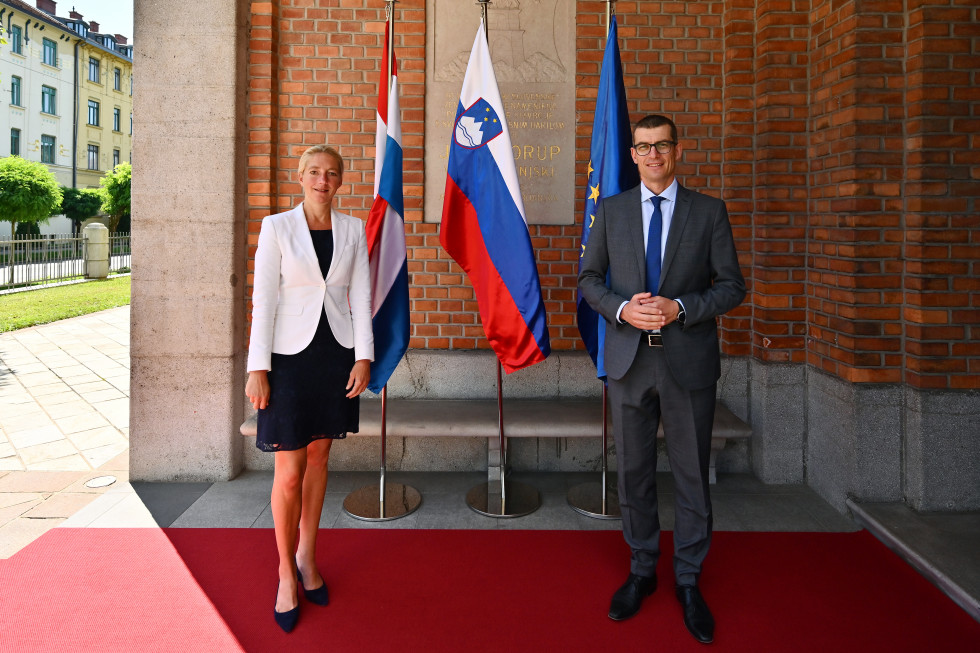 Director General of the Directorate for European Union Affairs Barbara Sušnik and Deputy Foreign Minister Anita van den Ende
Special attention was paid to the exchange of views on the key challenges of the Slovenian Presidency of the Council of the EU, which are related to the consequences of the COVID-19 pandemic, building up the Union's resilience to crises, recovering the European economy, and the future of Europe.
State Secretary Dovžan and Deputy Foreign Minister van den Ende agreed on the importance of the rule of law and equal criteria for all, and on the continuation of dialogue between member states. State Secretary Dovžan emphasised the strategic importance of EU enlargement to the Western Balkans. They also discussed the situation in Afghanistan and agreed on the importance of EU member states' involvement in the evacuation of EU citizens and directly endangered EU staff. There is a need to develop a unified EU approach and to address the accumulated problems as close as possible to their origins and in cooperation with Afghanistan's neighbouring countries.
Director General Sušnik briefed her Dutch colleague in detail on the key priorities and the course of the Slovenian Presidency. During this time, Slovenia is paying special attention to the COVID-19 pandemic and more efficient treatment of various crisis situations. The focus is on building the European Health Union, ensuring greater European Union autonomy regarding the availability of medicines and vaccines, and cybersecurity measures. The Director General also emphasised how important it is that the Conference on the Future of Europe be successfully implemented and stressed that the conference must be based on a broad and high-quality discussion with citizens.
The high officials confirmed excellent political and economic relations between Slovenia and the Netherlands. The Netherlands is Slovenia's ninth most important foreign trade and ranks sixth in terms of the volume of foreign investments in Slovenia, with both countries striving to reinforce economic ties. Both sides expressed mutual interest in further strengthening the close cooperation and dialogue on current European issues.