Home affairs ministers express solidarity with the EU member states at the border with Belarus
Today, the Slovenian Presidency of the Council of the EU organised an extraordinary videoconference meeting of interior ministers within the framework of the Council's crisis response mechanism (IPCR), which was chaired by Minister of the Interior Aleš Hojs. The ministers expressed solidarity with the affected states - Latvia, Lithuania and Poland - and supported additional assistance to the member states at this section of the external EU border.
Lithuania, which was the first member state to be hit by this crisis, has received several kinds of assistance from member states, the European Commission and EU agencies. "Due to the rapidly changing situation on the ground, Lithuania needs additional assistance, as do Latvia and Poland," Minister Hojs said. "We agreed to deploy additional experts and agency teams as well as the necessary technical equipment to these member states, to help increase reception capacities, to call on the European Commission for additional financial assistance and, above all, to strengthen EU external border control." Ministers also underlined the importance of cooperation between countries of origin and transit in return and readmission, while the Presidency will organise discussions of Article 25a of the Visa Code on issuing of a visa with limited territorial validity in exceptional cases as a matter of priority.
"Member States again strongly condemned the Belarus' attempts to instrumentalise human beings for political purposes," stressed Hojs.
The Presidency, together with the European Commission and the agencies, will continue to closely monitor the situation on the ground.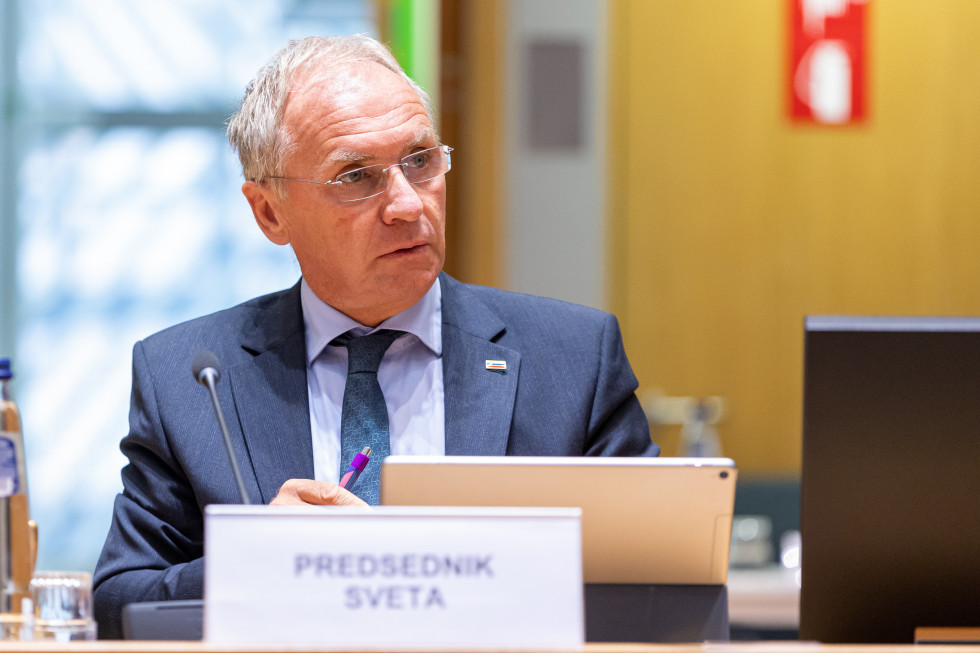 EU Council Hall in Brussels
Minister of the Interior Aleš Hojs and European Commissioner for Home Affairs Ylva Johansson on screen
Minister of the Interior Aleš Hojs
The Slovenian Presidency is also keeping a close eye on the situation in Afghanistan. "At today's meeting, High Representative Josep Borrell briefed us on the conclusions of yesterday's foreign ministers' meeting, while Commissioner Ylva Johansson presented the migration preparedness and crisis blueprint," said Minister Hojs, noting that "the international community must now do everything possible to ensure adequate humanitarian assistance and to protect the most vulnerable in Afghanistan." Due to the situation in Afghanistan, the Slovenian Council Presidency is working on the next steps and actions to prepare for possible migration pressure on the EU and other threats in the near future, to ensure a common EU response.
Minister Hojs added that Mediterranean states are also faced with migration pressures, especially from North Africa, which was something he discussed with his Italian counterpart Luciana Lamorgese a few days ago. At the end of August, the European Commission will present a migration preparedness plan for this part of the Mediterranean, and the Slovenian Presidency will accordingly organise further discussions and prepare an appropriate response.