State Secretary Dovžan receives Vice-President of the French National Assembly
Ministry of Foreign Affairs
State Secretary Gašper Dovžan today received Vice-President of the French National Assembly Laëtitia Saint-Paul, who is visiting Slovenia together with Sabine Thillaye, the Chair of the European Affairs Committee of the French National Assembly.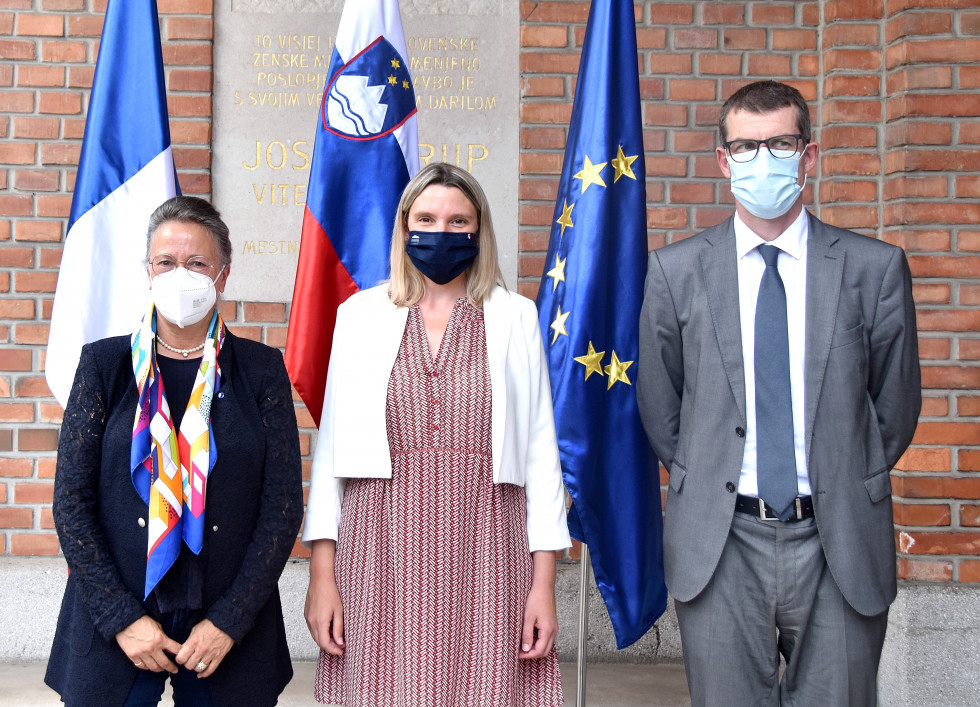 The Slovenian and French delegations during the session
The talks were aimed at continuing the enhanced strategic cooperation between Slovenia and France against the backdrop of their successive EU Council presidencies, as France will take over the reins of the presidency from Slovenia on 1 January 2022.
Particular focus was placed on key topics that are common to the two successive EU Council presidencies. These are mainly linked to the repercussions of the COVID-19 pandemic, building the Union's resilience and its strategic autonomy, and the future of Europe. The pair agreed that the rule of law and the continuation of dialogue between the two member states are paramount.
State Secretary Dovžan underlined how important it is that the Conference on the Future of Europe be successful. The Conference, which was launched on 9 May 2021 in Strasbourg, is now in progress during the Slovenian Presidency, and will close in spring 2022 during the French Presidency. The State Secretary also stressed that the Conference, as a common thread linking both presidencies, should be based on a wide-ranging and high-quality debate with citizens, which is key to seeking answers as to the kind of Europe they wish to live in. In this context, he brought to the fore the important role of the parliamentary dimension and active participation of national parliaments in the debates.
State Secretary Dovžan also advocated a credible continuation of the EU's enlargement process and reduction of development disparities between the EU and the Western Balkans, to which Slovenia is devoting particular attention during its Presidency.