State Secretary Dovžan holds talks with Kosovo Foreign Minister
Ministry of Foreign Affairs
State Secretary Gašper Dovžan and Minister of Foreign Affairs and Diaspora of Kosovo Donika Gërvalla-Schwarz held a video conference meeting. They assessed bilateral relations and exchanged views on the Euro-Atlantic aspirations of Kosovo from the perspective of the second Slovenian Presidency of the Council of the European Union, stressing the importance of maintaining a credible European perspective for the Western Balkan countries, thereby further contributing to the stabilisation of the region.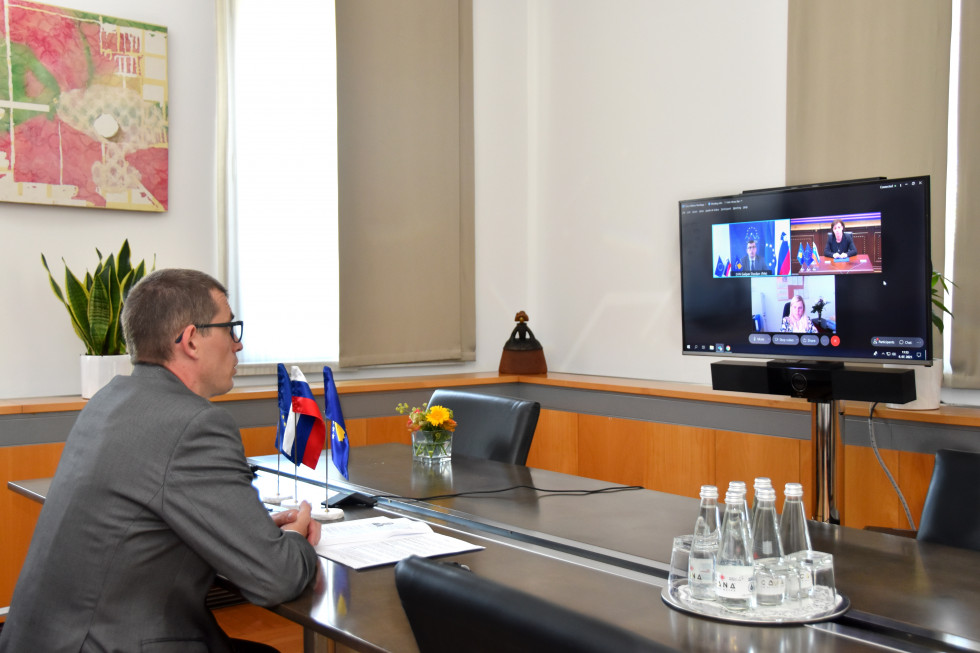 State Secretary Dovžan during talks
State Secretary Dovžan briefed his counterpart on the priorities of the Slovenian Presidency and described how Slovenia intends to put particular emphasis on the Western Balkans. The EU-Western Balkans Summit is scheduled for October. During its presidency, Slovenia will strive to strengthen transatlantic relations and strategic alliances with the countries sharing common values.

State Secretary Dovžan underlined the importance of respecting the rule of law and the fight against organised crime and corruption. He expressed his expectation for the continuation of the Belgrade-Pristina dialogue with a view to normalising bilateral relations between Serbia and Kosovo. Slovenia expects constructive engagement of all participants and the implementation of adopted agreements.