Minister Logar on the importance of continuing EU enlargement to Western Balkans at the GLOBSEC forum
Foreign Minister Anže Logar participated in the 16th Bratislava Forum as part of GLOBSEC. Taking place from 15 to 17 June, the Forum is one of the most prominent conferences in Central and Eastern Europe addressing current strategic issues. This year, it focused on post-pandemic recovery, both from an economic and technological point of view, as well as from the aspect of building trust and strengthening the global role of the European Union.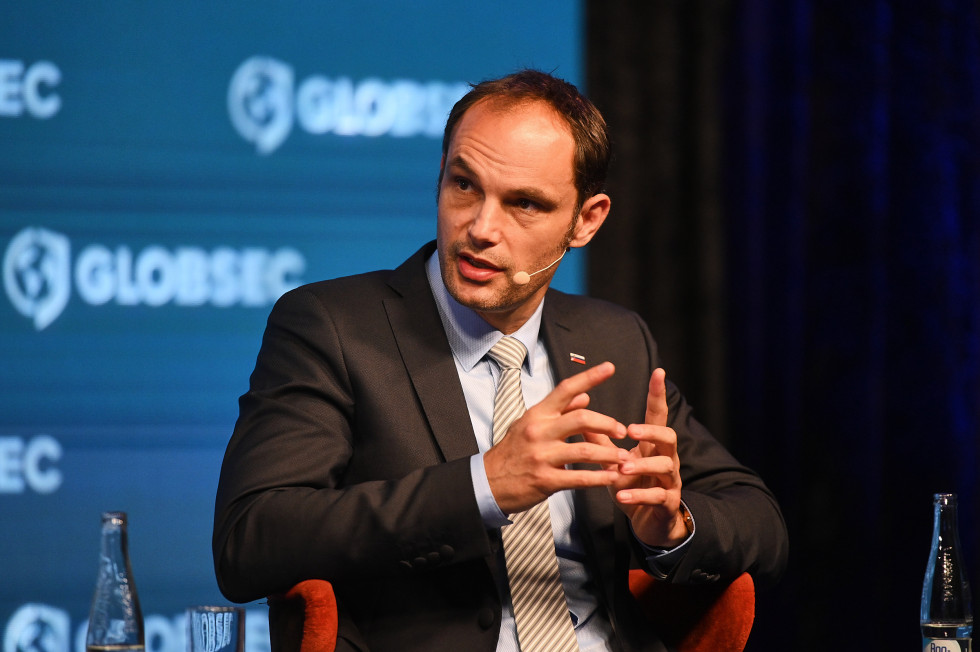 Minister Logar and EU Special Representative for the Belgrade-Pristina Dialogue and other Western Balkan Regional Issues Miroslav Lajčák
Participants in the panel discussion
Minister Logar participated in the panel discussion "Geopolitical Europe at the Crossroads: The Western Balkans in the Post-COVID-19 Era" together with Croatian Foreign Minister Grlić-Radman, Foreign Minister of North Macedonia Osmani and European Union Special Representative for the Belgrade-Pristina Dialogue and other Western Balkan regional issues Miroslav Lajčák.

The Minister emphasised the importance of a credible EU enlargement process for the Western Balkan countries, for their sustainable development, stability, and prosperity, all of which are in the interest of both Slovenia and the entire Union. During its fast-approaching EU Council Presidency, Slovenia will pay particular attention to the Western Balkans, addressing it as one of its priorities, which is also reflected in the planned EU-Western Balkans Summit.

According to Minister Logar, the EU must engage in geostrategic thinking and strengthen and maintain a high level of mutual trust with the countries of the Western Balkans. This will make it easier to address the challenges we all face (migration, climate change, digitalisation and cyber security, strategic autonomy). These efforts include helping the region cope with the COVID-19 pandemic and address its consequences.

At the same time, ensuring that the enlargement process remains high on the Union's agenda and implementing joint programmes and projects limits the penetration of third actors into the region. The EU can only act as a global player if it first devotes particular attention to its immediate neighbourhood.

The Minister also discussed the EU enlargement process with his North Macedonian counterpart, Bujar Osmani. According to him, the EU should consider that North Macedonia has fulfilled the required conditions, and it is now up to the 27-member bloc to pursue a credible enlargement policy.

On the sidelines of the Forum, Minister Logar also met with the GLOBSEC Management Board. They exchanged views on potential further cooperation, especially in the context of the Slovenian EU Council Presidency and the partnership between GLOBSEC and the Bled Strategic Forum (BSF).