Consultations of State Secretary Dovžan with Bulgarian Deputy Foreign Minister
Ministry of Foreign Affairs
Ahead of the fast-approaching Slovenian EU Council Presidency, State Secretary Gašper Dovžan held talks with the Deputy Foreign Minister of Bulgaria, Rumen Alexandrov, via videoconference. The central topic of conversation was the priorities of Slovenia's Presidency.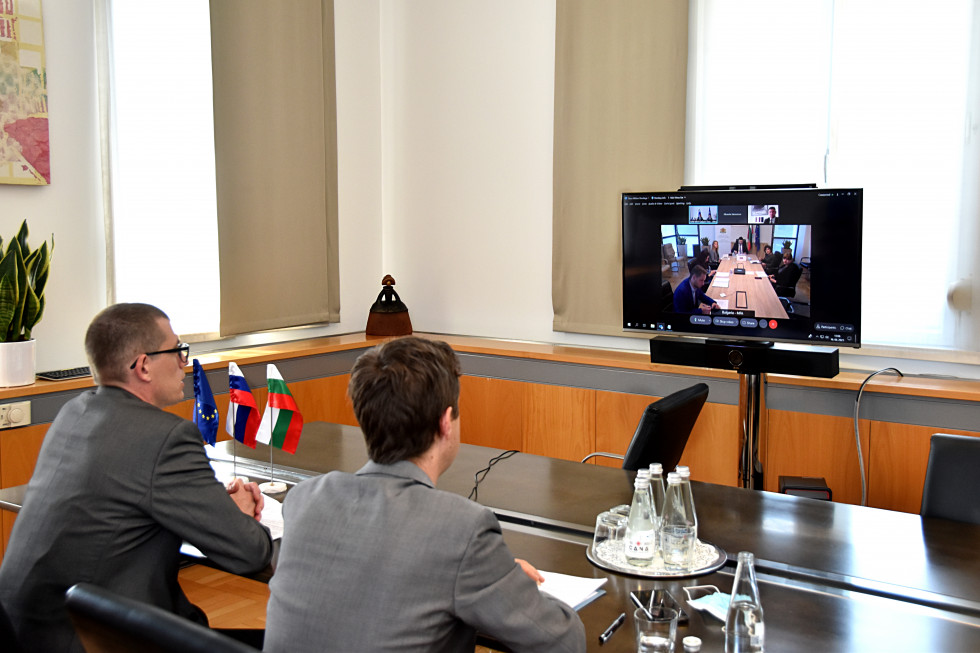 State Secretary Gašper Dovžan and his colleague during the videoconference
State Secretary Dovžan and Deputy Foreign Minister Alexandrov started by confirming the positive and friendly relations between Slovenia and Bulgaria, the countries having membership in the European Union and NATO and several other interests in the wider region in common. They called for further deepening of bilateral relations in various fields and strengthening of dialogue between their two countries.

State Secretary Dovžan briefed his counterpart on the key substantive priorities of the Slovenian EU Council Presidency, emphasising the Union's resilience to various types of crisis, its recovery and digital and green transition, national recovery plans, the Conference on the Future of Europe, the promotion of the European way of life and the rule of law and the EU as a reliable global partner.

State Secretary Dovžan emphasised the importance of a credible EU enlargement policy, underlining that the Western Balkans must remain the Union's geostrategic priority. He promised Slovenia's full attention to this matter during the Presidency. The Slovenian and Bulgarian sides also conducted a detailed review of current issues likely to feature during the Slovenian Presidency.

Deputy Minister Alexandrov wished Slovenia a successful EU Council Presidency and expressed Bulgaria's readiness for constructive cooperation.