State Secretary Dovžan holds talks with Estonian Undersecretary for European Affairs Volmer
State Secretary Gašper Dovžan participated in a videoconference with Märt Volmer, Undersecretary for European Affairs at the Ministry of Foreign Affairs of Estonia.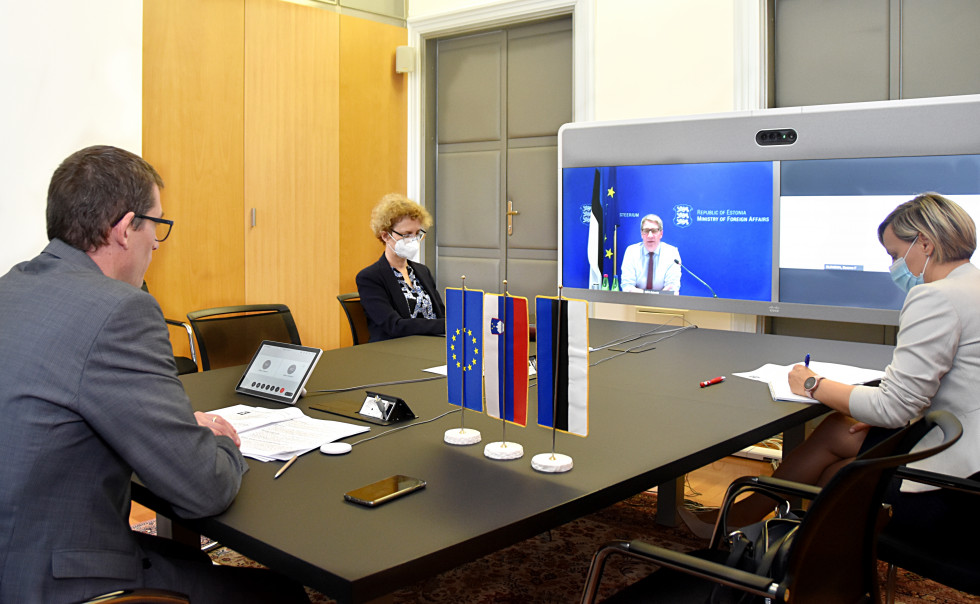 State Secretary Dovžan during the videoconference
State Secretary Dovžan and Undersecretary Volmer were pleased to note the excellent relations between Slovenia and Estonia, the countries having held regular meetings at the highest political levels in recent months. State Secretary Dovžan presented the priorities of the Slovenian EU Council Presidency. The officials advocated further close cooperation in the coming period, which will be crucial for the EU, and promoted the launch of the European Digital Green Certificate that will allow citizens to move freely within the Union.

They agreed that the European Union should strengthen its resilience to various forms of crises, as well as its ability to face different security threats, with particular emphasis on cyber threats. Strategic autonomy, economic recovery and digitisation were among the most important topics of the talks. They underlined the importance of the rule of law, of further strengthening transatlantic relations, and of reaffirming the European perspective of the Western Balkans, adding that both countries will foster active and inclusive discussion on the future of Europe. Focus was also placed on the internal and external dimension of migration in the light of finding consensus on the proposal for a Migration and Asylum Pact.

Undersecretary Volmer welcomed the priorities of the Slovenian EU Council Presidency and went on to express readiness to continue the close cooperation between the two countries in harmonising positions regarding European issues.