State Secretary Gašper Dovžan holds consultations with Finnish Minister for European Affairs and Ownership Steering
Ministry of Foreign Affairs
Today, State Secretary Gašper Dovžan held a meeting via videoconference with Finnish Minister for European Affairs and Ownership Steering Tytti Tuppurainen. The meeting focused on the presentation of the priorities of the upcoming Slovenian EU Council Presidency.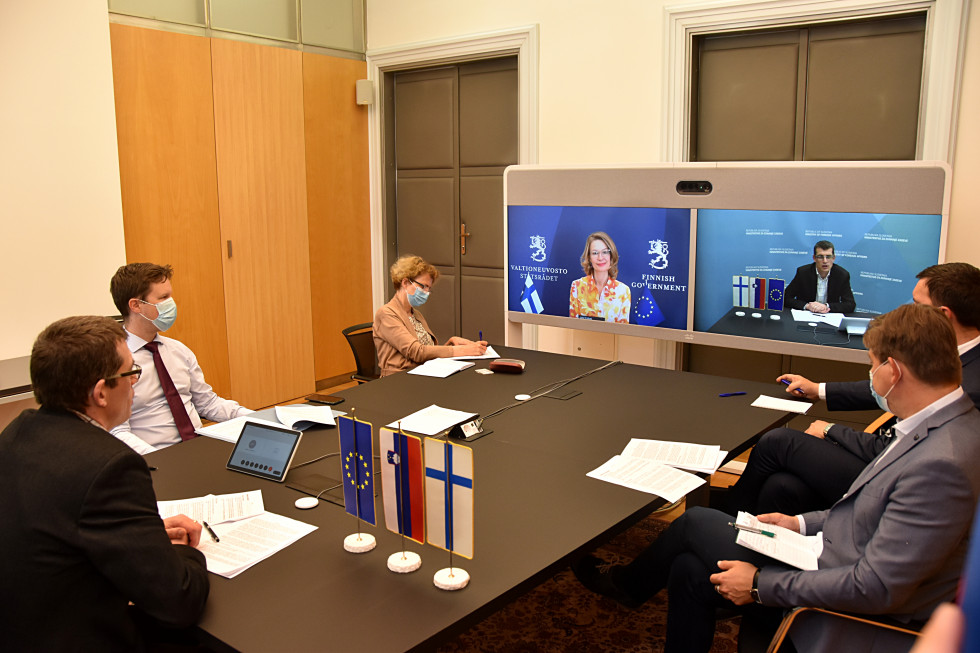 State Secretary Dovžan with his team
At this important moment for the EU, the officials advocated active and close cooperation, and called for strengthening of the bloc's resilience to various forms of crises, its recovery and strategic autonomy. As to the Conference on the Future of Europe, they agreed that a broad circle of citizens should take part in the discussion. They also drew attention to the rule of law and European values.

State Secretary Dovžan outlined that Slovenia will be committed to further enhancing transatlantic relations and consolidating strategic alliances with the countries that share our common values, devoting special attention to the neighbourhood. Furthermore, the officials reaffirmed the European perspective of the Western Balkans as well as the dialogue and constructive cooperation with the countries in the wider neighbourhood, also touching on the external and internal dimension of migration as well as EU-Russia relations.

Minister Tuppurainen wished Slovenia every success as the next holder of the Presidency and gave assurances of Finland's full support and constructive cooperation during its tenure.