At an extraordinary session, Prime Minister Janez Janša responded to the proposal for a constitutional indictment and again called for cooperation
Today, at the 75th extraordinary session of the National Assembly, Prime Minister Janez Janša responded to a proposal for a constitutional indictment filed by opposition parties. His answer outlined the current epidemiological situation and listed the reasons for the situation in Slovenia. He pointed out that the opposition must be moderate in exercising possible instruments, and spoke of an optimistic economic forecast, then gave the latest data about vaccinations, stressing that a year of recovery is ahead, which will be faster than the average of EU member states and will return Slovenia to pre-crisis levels in record time.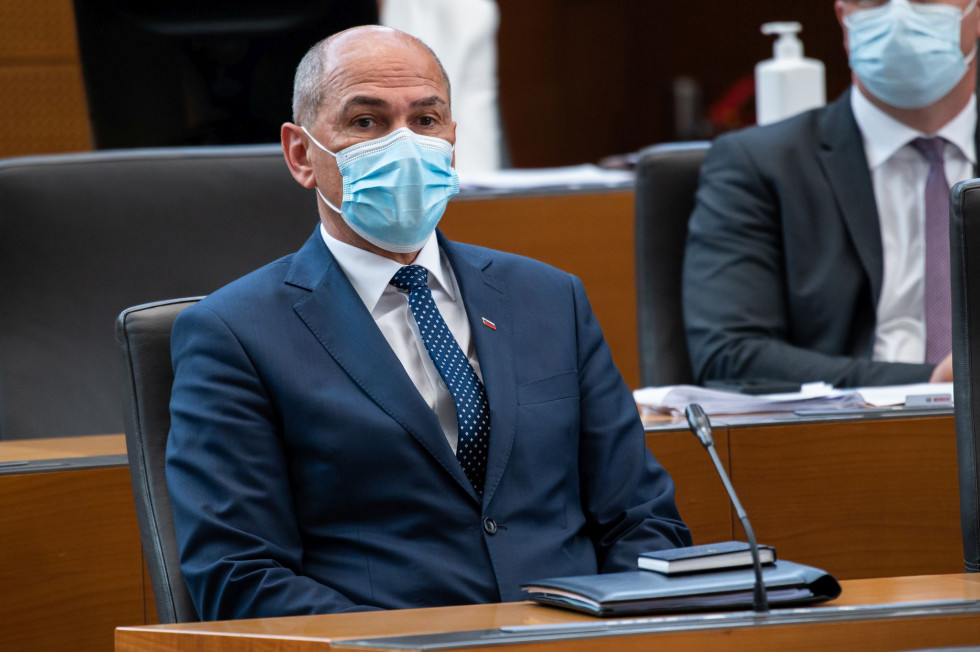 At an extraordinary session, Prime Minister Janez Janša responded to the proposal for a constitutional indictment
At an extraordinary session, Prime Minister Janez Janša responded to the proposal for a constitutional indictment
At an extraordinary session, Prime Minister Janez Janša responded to the proposal for a constitutional indictment
In his response to the constitutional indictment, the Prime Minister outlined the situation in which the opposition parties had filed a constitutional accusation against the Prime Minister. "We are in a time of crisis, we have an epidemic, and this for already more than a year. Moreover, people are dying because of it. The opposition has various instruments at its disposal, we also used them in the opposition, but we kept it reasonable. This measure of reason exists in most countries with parliamentary democracy." He added: "You stole our elections, and took mandates unconstitutionally. When we were in opposition, we had enough MPs to be able to file a request for an extraordinary session every day and block the procedure, but we did not do that. We did not generally obstruct sessions, as one of the parliamentary opposition groups has been doing in recent weeks. In this case, one should also keep it reasonable."
He further pointed out that a party that opposes constitutional principles such as representative democracy, private property and a market economy in its program had also signed the constitutional indictment. He described as absurd a complaint stating that the Prime Minister is endangering healthy drinking water. "This accusation was signed by those who have been collecting signatures in recent weeks for a referendum against the law, in which 40 million euros are intended for additional regulation of watercourses so that they will not flood." He also said that the opposition had collected signatures for a referendum against the law banning tycoons from building villas on the Slovenian coast and lake shores. "You collected signatures for the water law to be posed in a referendum and then I am accused of endangering healthy drinking water. These allegations are ridiculous."
Regarding the pandemic, he said that Slovenia had a difficult second wave, and in his opinion, it was necessary to look at the beginning of the pandemic. He pointed out that on a visit to Slovenia in June of 2017, the World Health Organization gave recommendations on what needed to be done to prepare for the epidemic. Nothing had been done about these recommendations by 13 March 2020 when the new government took office. According to him, thousands of lives could have been saved if Slovenia had followed the recommendations and prepared for the epidemic. "Expecting all the things that were not done years before despite having been officially warned, to be done now overnight", is in his view unacceptable. He drew attention to the situation in other European countries, telling that despite having an excellent healthcare system, the Netherlands also experienced an unmanageable situation for two weeks during the second wave, and had to drive patients to Germany. "Slovenia did not have to transport patients to other countries, because thanks to the current Health Minister, we built additional capacities literally overnight and our Covid-19 patients were able to be treated at home."
The Prime Minister also drew attention to the general healthcare situation in Slovenia, regarding proposals about waiting times and what has been done in recent years by left-wing governments to eliminate them. "How many of the thousands who have passed away in recent years from cancer have died because they had to wait too long for surgery because diagnosis came too late? Of course, diagnoses also depend on medical capacities."
He then presented data on investments made during the past ten years, stating that even though Slovenia has the eighth oldest population in the world, left-wing governments had invested 367 million euros in family policy from 2009 to 2019, and paid 706 million euros to non-governmental organisations. "It is not right to pay more for non-governmental organisations than for youth and the future." In his opinion, it is also unreasonable that "we have given around 400 million euros to Slovenian hospitals during the last ten years, and over a billion euros to national television and the STA". He said that no one could convince him that the national media was more important than the investments made for the entire healthcare and education system. "That is to say, it was a giant hole". According to him, the consequence of this has been waiting times and the consequences due to waiting for medical interventions.
The Prime Minister also spoke about how Slovenia is seen by others and where it stands in real comparison. "The European Commission has recently issued macroeconomic forecasts for the euro area as a whole and for EU Member States, and these forecasts allow for comparisons to be made. Current forecasts are better than they were last autumn. Slovenia ranks sixth in terms of economic growth this year." He also spoke about indebtedness and the increase in public debt. "We are hearing allegations of indebtedness and last year's increase in public debt. We also heard the accusation that we distributed money among the people. We understand this complaint because it comes from the mouths of those who distributed money to NGOs and banks, while the people have remained the payers of these debts." The Prime Minister pointed out that Slovenia had achieved by far the most favourable position on the financial markets, that we can issue bonds for 60 years, which was unimaginable until a few years ago, and that we were able to borrow at a negative interest rate.
Regarding vaccination, he said that according to the latest data, 636,000 citizens have been vaccinated with a first dose, and 348,000 people had received a second dose. He pointed out that due to the severity of the second wave, 242,000 citizens have recovered from Covid-19 and do not need to be vaccinated for another six months after recovery. He expressed his belief that we would achieve adequate vaccination coverage by the summer. In view of all the above, according to the Prime Minister, the current declaration of the epidemic is the last one until mid-June, when we will be able to move to a transitional period with most of the measures eliminated. However, some preventive measures will still be necessary. The enactment of the digital green certificate is likely to be operational in mid-June, coinciding with the formal end of the epidemic in Slovenia. "From then on, we can expect a return to normalcy, at least as we expected and had last summer." "Before us is not an iceberg and catastrophe, as depicted in the constitutional indictment, but an optimistic time." He also said: "We are facing a year of recovery that will be faster than the EU average and which will return Slovenia to pre-crisis levels in record time. At the same time, we have ordered enough vaccines for the second half of the year for the third dose which is needed to maintain immunity."
Concluding his response to the constitutional indictment, the Prime Minister said that recovery and resilience represent a major challenge. "For the third time, I am formally calling for cooperation and that we join forces." Adding that: "Legislative acts will come to the benches, which are important for the recovery to be not only fast, but also fair. Among them will be the Long-Term Care Act and the Healthcare Investment Act." He called on the opposition not to hinder normal working procedures. "An appeal to greater reason. If you get enough votes to set another government, then do that, but until you can do it, don't create difficulties that hurt everyone."