EU Foreign Affairs Council on transatlantic relations in the Western Balkans
Foreign Minister Anže Logar today attended a regular meeting of the Foreign Affairs Council. Ministers discussed the situation in the Western Balkans and transatlantic relations. They also held an informal video conference with the US Special Climate Envoy John Kerry.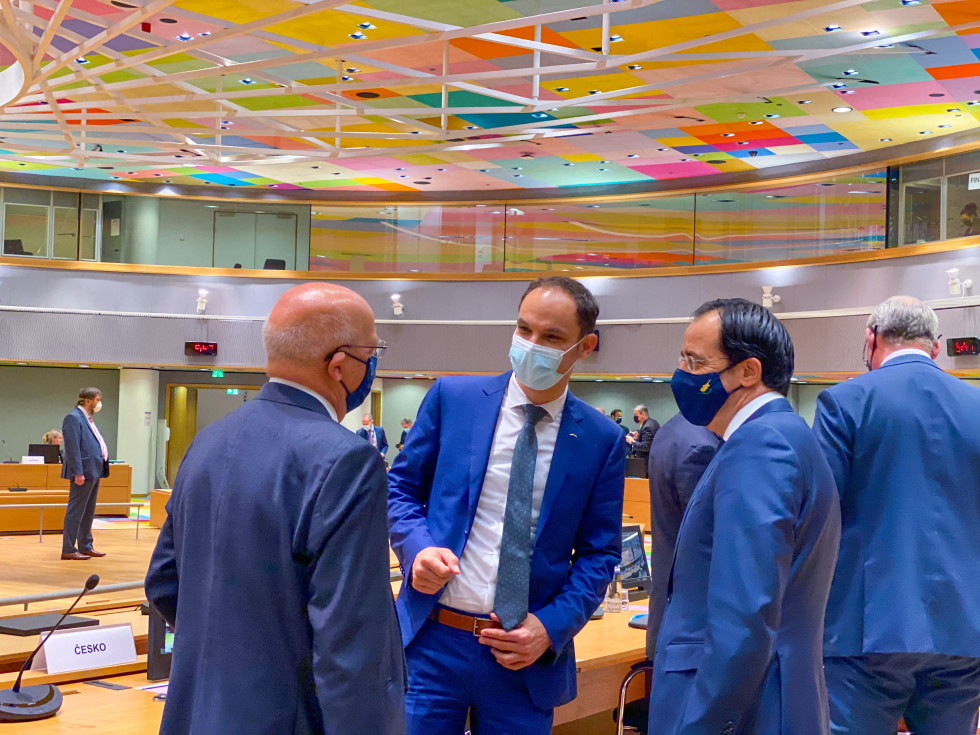 Minister Logar at the EU Foreign Affairs Council meeting
Minister Logar at the EU Foreign Affairs Council meeting
In the introductory part of the meeting, the High Representative of the European Union for Foreign Affairs and Security Policy, Josep Borrell, briefed the participants on his visit to Mauritania, Mali and Chad. He underlined the geopolitical consequences of the COVID-19 pandemic and the fight against it on global health. After the meeting with the US Secretary of State, Anthony Blinken, he brought the participants up-to-date on the situation in Afghanistan. He also outlined the current developments in the Russian Federation, Iran, Palestine and Belarus. Minister Logar informed the ministers about the recent visit of the Belarus opposition leader, Sviatlana Tsikhanouskaya, to Ljubljana.

At the initiative of nine EU Member States, including Slovenia, the ministers discussed the Western Balkans. During the discussion on the region, which has been severely affected by the COVID-19 pandemic, they highlighted the strategic importance of the EU enlargement policy as well as other aspects of the EU-Western Balkans integration. On behalf of both Slovenia and Austria, Minister Logar emphasised the significance of the EU's continued active engagement in the Western Balkans and its enlargement for long-term stability and security in the region. However, he expressed regret over the current stalemate in the enlargement process as well as over the standstill in the confirmation of the negotiating frameworks for North Macedonia and Albania. He advocated overcoming the development gap between the EU and the region, which has been further exacerbated by the COVID-19 pandemic. Minister Logar also stressed the importance of transatlantic cooperation in solving key issues.

The ministers then continued their discussion on transatlantic relations, launched at the December Foreign Affairs Council meeting, which were also on the agenda at the virtual meeting of the EU Foreign Affairs Council with the new US Secretary of State Blinken in February and at the meeting of the EU leaders with the US President Biden at the European Council Summit in March. The aim of the talks was to take stock of the development of relations to date and outline further cooperation with the new US administration. The ministers welcomed the announced EU-US summit in June, which will provide a comprehensive overview of transatlantic relations.

Minister Logar held a virtual meeting with US Special Climate Envoy John Kerry, during which he highlighted the importance of the transatlantic cooperation in the fight against climate change as well as the Union's role in negotiations with third countries prior to and during the UN climate conference COP26 scheduled for early November in Glasgow.