Minister Logar hosts Turkish counterpart Mevlüt Çavuşoğlu on an official visit
Slovenian Minister of Foreign Affairs Anže Logar hosted the Minister of Foreign Affairs of the Government of the Republic of Turkey, Mevlüt Çavuşoğlu, on an official visit.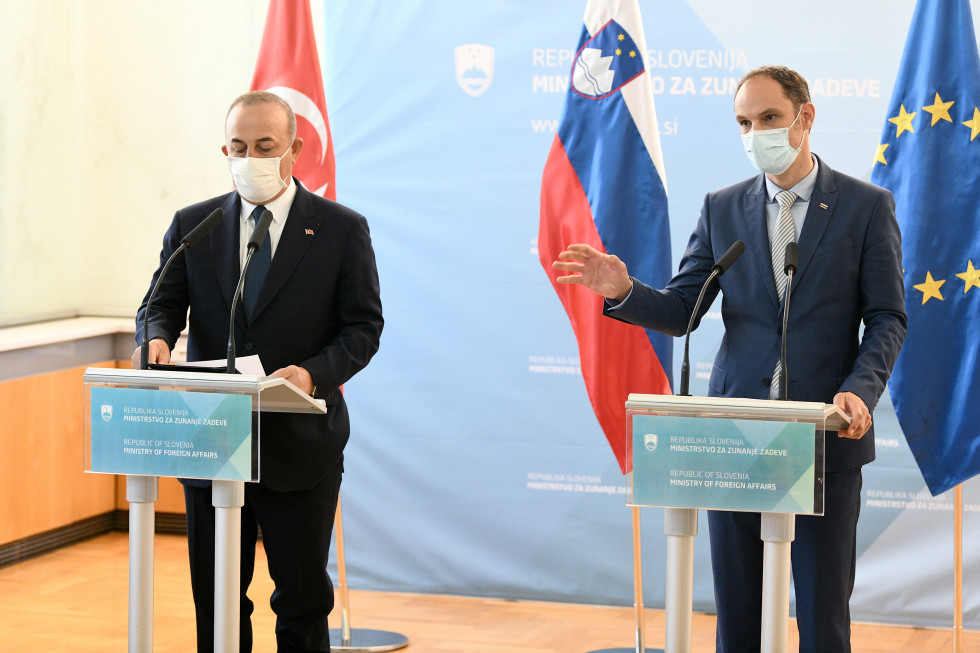 Bilateral talks
Ministers Mevlüt Çavuşoğlu and Anže Logar
The visit of the Turkish Foreign Minister provided an excellent opportunity to review bilateral cooperation and discuss the further development of EU-Turkey relations. The emphasis was placed on Slovenian preparations for the EU Council Presidency in the second half of 2021. The two ministers exchanged views on current regional issues, particularly the situation in the Western Balkans, the Eastern Mediterranean, and the Middle East.

Minister Logar expressed Slovenia's support for continuing a constructive dialogue between the European Union and Turkey that would contribute to the progress on divisive issues, especially in the Eastern Mediterranean. Slovenia welcomes the noticeable progress made this year but underlines that this trend should be sustained. The EU and Turkey remain important partners in the economic, security, and migration contexts. Minister Logar went on to emphasise the importance of honest and open communication between the partners and of maintaining the perspective of the EU's enlargement process once the conditions are met.

This year marks ten years since Slovenia and Turkey embarked on a strategic partnership. The ministers also discussed economic exchange between the two countries, investment opportunities, and efforts to balance the commercial deficit on Slovenia's part.