Foreign Minister Logar hosts his Swedish counterpart Linde on an official visit
Ministry of Foreign Affairs
Minister of Foreign Affairs of the Republic of Slovenia Anže Logar is hosting Ann Linde, the Minister for Foreign Affairs of the Kingdom of Sweden and the Chairperson-in-Office of the Organization for Security and Co-operation in Europe (OSCE), on an official visit. The ministers reviewed bilateral relations and cooperation, the key priorities of the upcoming Slovenian EU Council Presidency, and the main challenges of the Swedish OSCE Chairmanship.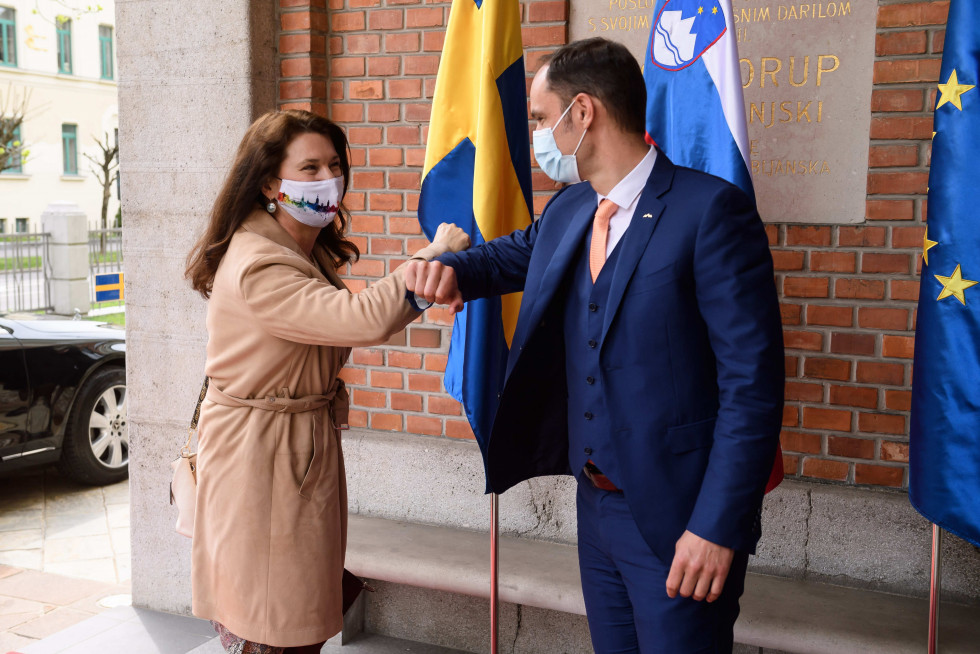 Ministers Ann Linde and Anže Logar
Ministers Ann Linde and Anže Logar
Bilateral talks
Press conference with ministers
Foreign ministers Logar and Linde agreed that Slovenia and Sweden enjoy excellent relations and a close friendship as well as regular and constructive cooperation within the European Union and in regional and international forums. They voiced their support for stepping up cooperation, particularly in trade.

During their talks, Minister Logar presented the key priorities of the upcoming Slovenian EU Council Presidency. They both confirmed a mutual interest and willingness to cooperate in all key strategic issues from green transformation and the UN Climate Change Conference (COP26) to the digital agenda and relaunch of economic growth.

Minister Logar welcomed the role and the activities of Sweden as the country currently holding the OSCE Chairmanship. The high officials exchanged views on current issues, especially the situation in Ukraine and its neighbourhood, and Belarus, and expressed mutual interest in establishing close cooperation at the European level within the OSCE.

They went on to discuss other current European and international topics, such as the measures for containing the COVID-19 pandemic, migration, human rights, EU-China and EU-Russia relations, transatlantic relations, the Eastern Partnership, and the situation in the Western Balkans.

The two countries share similar views on multilateral issues, which the ministers exchanged during their meeting, and strive to strengthen democracy, prevent conflicts, and advocate gender equality.

During the official part of the visit, Minister Linde also met with President of the Republic of Slovenia Borut Pahor.