EU foreign ministers on Ethiopia and Ukraine
Ministry of Foreign Affairs
Foreign Minister Anže Logar today attended a video conference meeting of the Foreign Affairs Council. The ministers focused their discussion on the situation in Ethiopia and Ukraine and held an informal talk with Ukrainian Foreign Minister Dmytro Kuleba.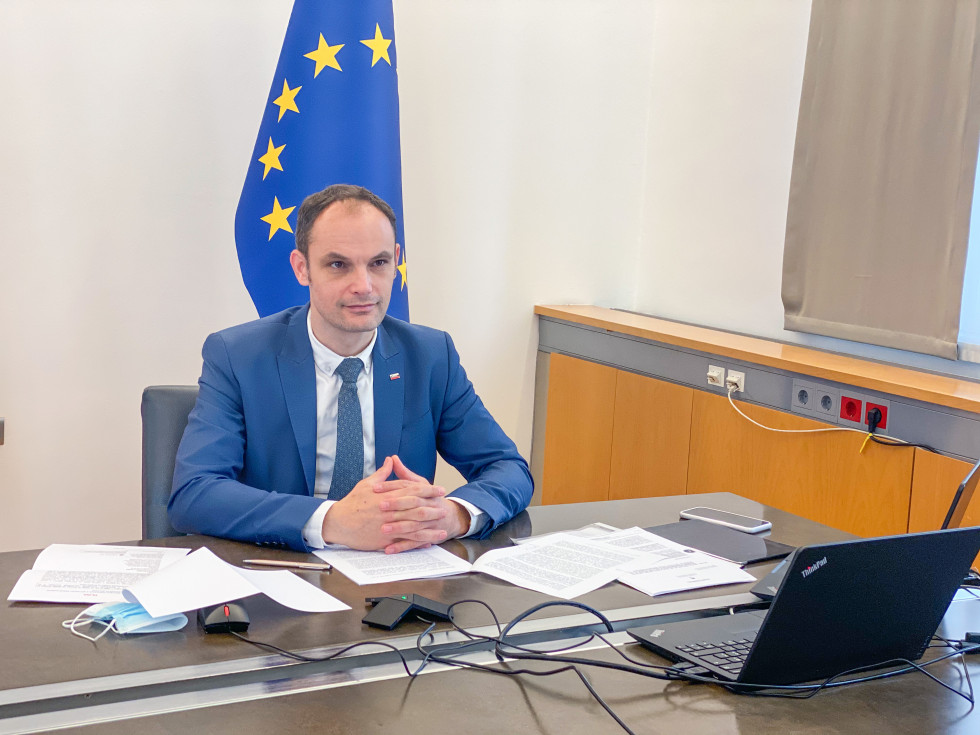 Minister Anže Logar attending the FAC meeting
At the beginning of the meeting, EU foreign ministers expressed solidarity with the Czech Republic in view of the information on Russian security services' activities in the Czech territory in 2014. In his introduction, the High Representative of the Union for Foreign Affairs and Security Policy, Josep Borrell, talked about Georgia, India prior to the EU-India Summit, Myanmar, Mozambique, and the legal nature of the post-Cotonou Agreement. At the request of some Member States, the situation in Belarus and Libya and relations with China following the imposition of sanctions were also addressed. The ministers discussed developments in Ethiopia, especially the difficult situation in the Tigray Region, and further EU activities. The Finnish Foreign Minister reported on his visit to the Horn of Africa on behalf of High Representative Borrell.
Minister Logar expressed his concern about the conflict in the Tigray Region, which adversely affects not only Ethiopia but also the stability of the entire region. He was also concerned about the humanitarian situation, advocating for unhindered access to humanitarian aid, protection of the civilian population and respect for the principles of international humanitarian law and human rights in the region. He went on to call for tensions between the two parties to be lifted so that peace and prosperity could be restored in the entire region. The foreign ministers and the Ukrainian Foreign Minister Kuleba then discussed the situation in Ukraine, its progress in reform process and EU integration, the conflict in eastern Ukraine, and the establishment of the Crimean Platform.
They also stressed the need for strong opposition to Russian military build-up on the border with Ukraine. Minister Logar expressed his unwavering support for Ukraine's territorial integrity, voiced his concern about the building up of armed forces along the Ukrainian-Russian border and commended the support and response of NATO and the US. He called on Ukraine to refrain from provocations so that the situation does not escalate, expressing the hope that the political dialogue would continue within the existing formats of the Normandy Quartet and the Trilateral Contact Group. He concluded by calling for increased efforts to strengthen Ukraine's internal resilience.