Director-General for EU Affairs at a meeting of the EU Council Presidency Trio
Ministry of Foreign Affairs
Director-General for EU Affairs Barbara Sušnik attended a videoconference of the EU Council Presidency Trio of Germany, Portugal and Slovenia.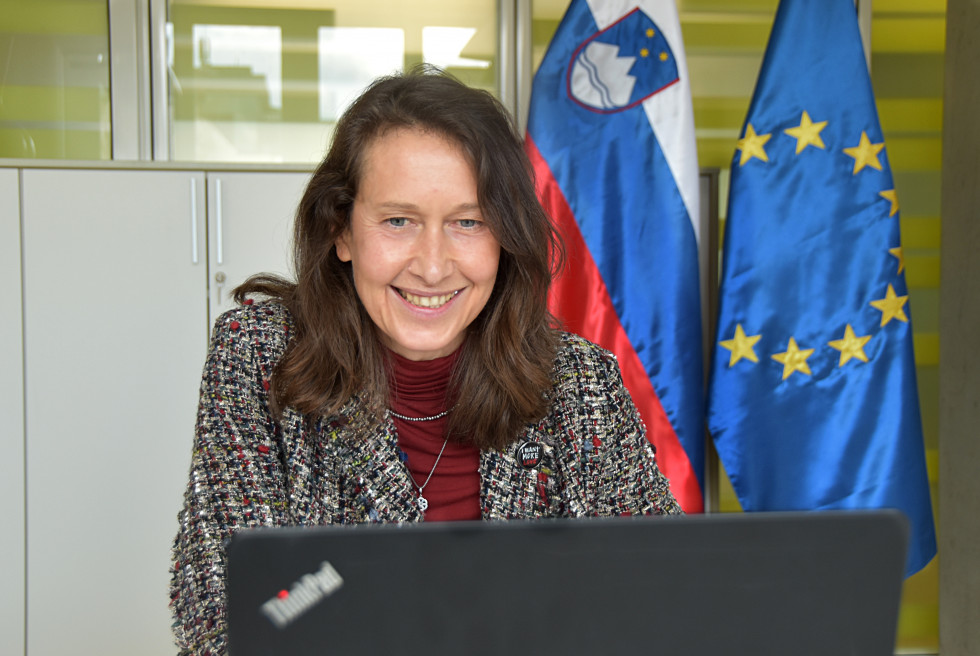 Director-General for EU Affairs Barbara Sušnik
Directors-general for EU affairs Barbara Sušnik, Rui Vinhas and Andreas Peschke assessed the progress made in the most important dossiers on European policies set out in the 18-month Trio Presidency Programme. Dealing effectively with the COVID-19 pandemic while promoting economic recovery, green transition and digital transformation are just some of its goals in addition to addressing matters related to migration and the rule of law. Director-General Rui Vinhas from Portugal, the country currently presiding over the Council of the EU, also presented the preparations for the meeting of the European leaders. By organising the event scheduled to be held between 7 and 8 May 2021 in Porto, Portugal, the Portuguese Presidency would like to strengthen the EU's social pillar.
Director-General Sušnik underlined that, in particular, a coordinated response of EU Member States to the pandemic and equitable access to vaccines are highly important. She went on to highlight the significance of the digital green certificate agreement and a coordinated gradual opening of borders before the beginning of summer.
The counterparts discussed the EU enlargement to the Western Balkan countries. Enhancing the European perspective and strengthening cooperation between the countries in the region will be Slovenia's highest priority as it takes over the presidency of the Council on 1 July 2021.
As to the country's other priorities, Director-General Sušnik drew particular attention to the efforts to strengthen the EU's resilience, renew the European economy by focusing on the green transition and digital transformation, enhance the rule of law, and promote the European way of life.
Finally, the officials touched on the Conference on the Future of Europe, which is set to start very soon and will mostly take place during the Slovenian EU Council presidency. It will be dedicated to discussions with citizens and their involvement in shaping a common European future.