Consultations of directors-general for European affairs between Slovenia and Slovakia
Ministry of Foreign Affairs
The Director-General for European Union Affairs, Ambassador Barbara Sušnik, today held bilateral consultations with Slovakia by videoconference. She and the Slovak Director-General for European Affairs, Tomáš Kozák, exchanged views on topical bilateral, European, and international issues.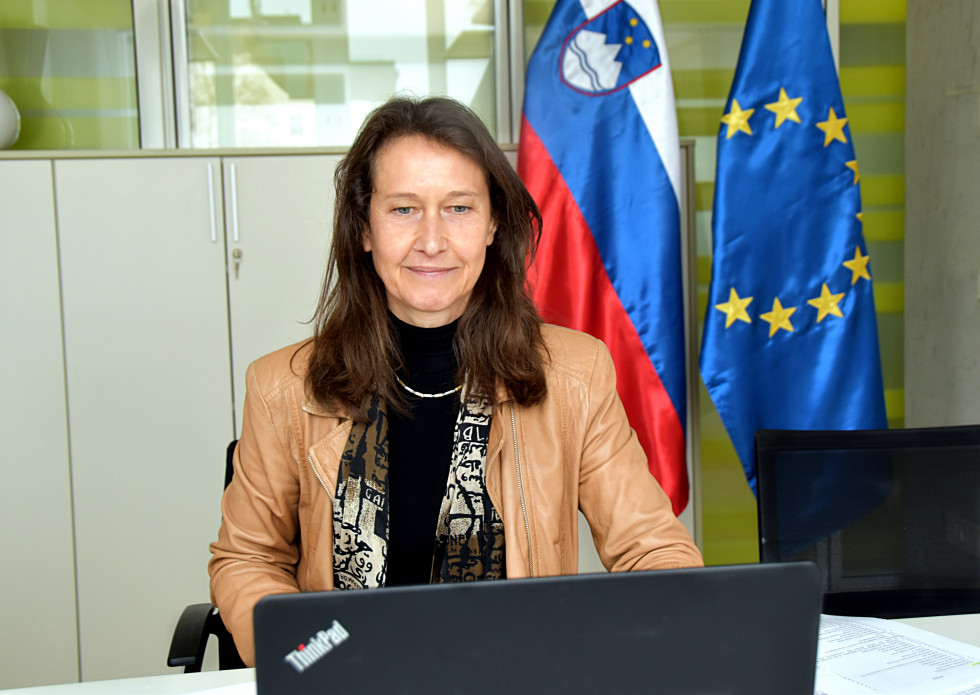 Director-General Barbara Sušnik during consultations
The two were satisfied with the excellent relations between their respective countries, which is reflected by regular contacts at the highest levels. They agreed that bilateral relations are successfully developed through regional cooperation, especially in the Central 5 format, the Three Seas Initiative, and the extended format of the Visegrad Group.

They focused on current European topics, with Director-General Sušnik outlining the course of preparations and key substantive priorities of the Slovenian EU Council Presidency in the second half of 2021. She highlighted the strengthening of the Union's resilience to various crises, its economic renewal, the annual rule of law dialogue, the continuation of the EU enlargement process to include the Western Balkans, and the strengthening of transatlantic relations. She drew particular attention to the Conference on the Future of Europe since Slovenia, as the country holding the EU Council Presidency and a member of the presidency of the Conference, will play a special role in its implementation. She stressed Slovenia's desire for full involvement of national parliaments and the need for citizens to have sufficient time and opportunity for discussion despite the pandemic situation, as this is the only way to ensure the democratic legitimacy of the whole process. The Slovak side endorsed the Slovenian Presidency priorities, expressing interest in cooperation on topics of common interest. The directors-general agreed that the Slovenian EU Council Presidency is an excellent opportunity to further strengthen bilateral dialogue.

The two interlocutors exchanged information on measures to stem the COVID-19 epidemic, stressing the importance of solidarity and common European solutions to overcome the health crisis and its consequences. About the Recovery and Resilience Facility, they believed that its timely implementation is crucial to successfully overcoming the economic, social, and fiscal consequences of the epidemic.

Directors-general Sušnik and Kozák also found time to exchange views on other topical European issues, particularly green renewal, and the search for consensus on the proposal for a new Pact on Migration and Asylum.

As their discussions turned to international issues, they focused on Turkey's maritime activities in the Eastern Mediterranean and on relations between the Union and the Russian Federation. On the former, they called for a stabilisation of the situation and the start of a constructive dialogue. They welcomed the European Council's intention to re-examine this issue at a forthcoming meeting. Regarding the Russian Federation, the two officials agreed that respect for basic civil liberties and human rights is essential, while at the same time agreeing on the need to continue co-operation with the Russian Federation in areas of mutual interest.