State Secretary Raščan holds lecture for Diplomatic Academy of Paraguay
Ministry of Foreign Affairs
Today, State Secretary Stanislav Raščan took part in a virtual seminar for the listeners of Paraguay's Diplomatic Academy, Institute for Strategic Studies, and National Defence Centre. As the lecture was also an excellent opportunity to establish contacts between the Slovenian and Paraguayan diplomatic academies, Head of the Slovenian Diplomatic Academy Andraž Zidar addressed the participants at the beginning of the event.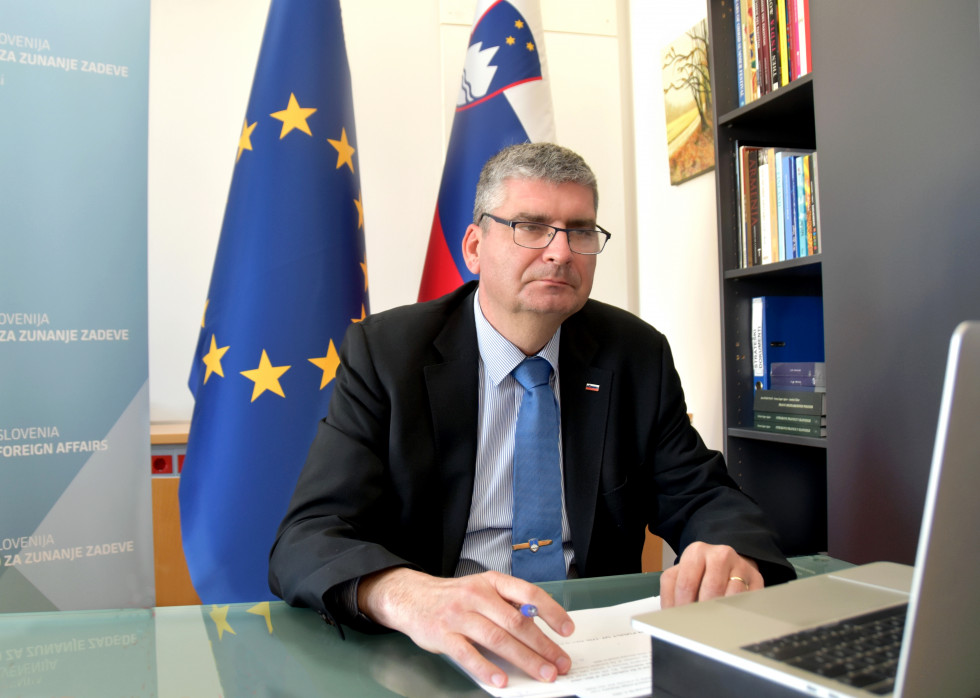 State Secretary Raščan during lecture
The lecture given by State Secretary Raščan focused on an overview of the Strategy and Declaration of Foreign Policy of the Republic of Slovenia.

The State Secretary also took advantage of the occasion to speak about bilateral relations between Slovenia and Paraguay. Throughout this past year and through numerous events, the two countries have together been marking the centenary of the birth of Stanislava Sušnik, a Slovenian anthropologist, who devoted her professional life to researching the life of indigenous people in Paraguay. Her outstanding scientific and research heritage, for which she received the Paraguayan national award, is also showcased in the Andrés Barbero Ethnographic Museum in Asunción. The anniversary of Stanislava Sušnik's birth provides the perfect opportunity and impetus for strengthening the all-round cooperation between the two countries.

State Secretary Raščan also touched on wider relations between the EU and Latin America. He underlined the extreme importance of their close political and economic partnership, underpinned by shared history and commitment to values and principles such as human rights and sustainable development. Both regions work successfully together, in particular within the United Nations and other international organisations. The State Secretary gave an assurance that Slovenia will devote all the necessary attention to reinforcing the partnership between the EU and Latin America.

He announced the third Latin America and Caribbean Days conference, organised by the Slovenian Foreign Ministry, which is to take place from 19 to 23 April 2021 in a virtual form.