Minister Logar hosts Romania's Foreign Minister Aurescu
Today, at the invitation of Minister of Foreign Affairs Anže Logar, the Romanian Minister of Foreign Affairs Bogdan Lucian Aurescu is paying an official visit to Slovenia. The visit is aimed at strengthening friendly relations between Slovenia and Romania and further deepening their cooperation within regional and international forums as well as on issues that are key to European citizens.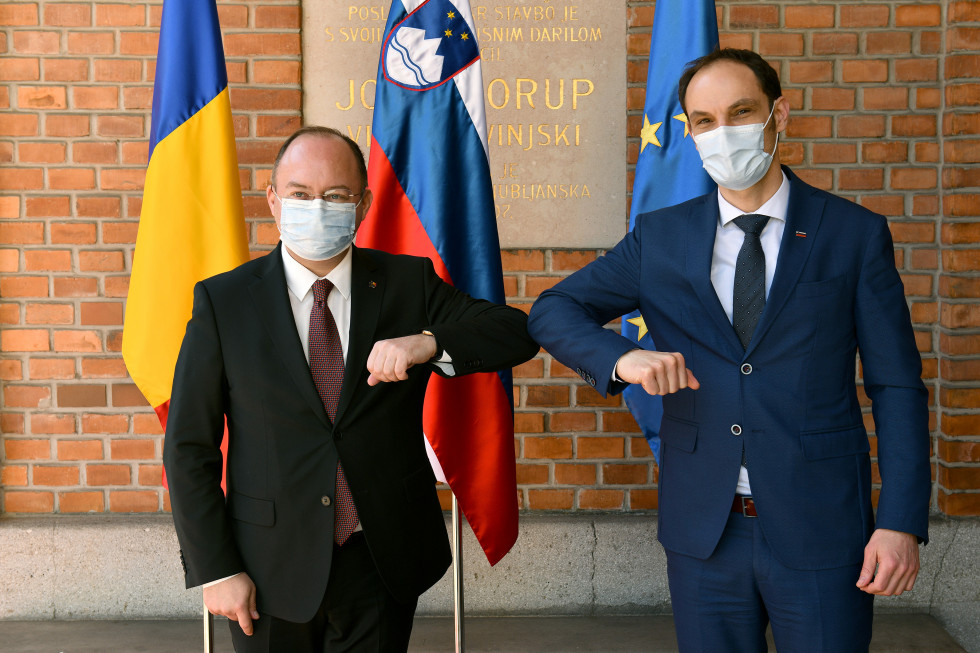 Minister Logar with Romania's Foreign Minister Aurescu
Minister Logar with Romania's Foreign Minister Aurescu
Delegations during talks
Press Conference
Ministers Logar and Aurescu were in full agreement that Slovenia and Romania are linked by excellent, friendly ties and constructive cooperation within the European Union, NATO, and regional and international forums. Both countries are also members of the Three Seas Initiative. Minister Logar thus reaffirmed Slovenia's interest in collaborating with Romania on strategic infrastructure projects of common interest.

During the talks, Minister Logar apprised his opposite number of the priority tasks of Slovenia's upcoming Presidency of the Council of the EU. The ministers confirmed their mutual interest and readiness for constructive cooperation in the run-up to and during Slovenia's presidency in all crucial strategic issues.

The counterparts went on to discuss other topical European and international issues, such as measures to curtail the COVID-19 pandemic, migration, transatlantic relations, the Eastern Partnership, and the situation in Western Balkans.

In addition to his meeting with Minister Logar, Minister Aurescu also spent time with President of the Republic of Slovenia Borut Pahor and President of the National Assembly Igor Zorčič.