Ministers and state secretaries for European affairs on preparations for the European Council and launch of the Conference on the Future of Europe
Ministry of Foreign Affairs
State Secretary Gašper Dovžan attended a video conference meeting of ministers and state secretaries for European affairs, focusing on the preparations for a video conference of the European Council members at the end of the week. The officials exchanged views on a joint response to the COVID-19 pandemic, particularly regarding vaccine supply, the efforts to jointly and gradually remove restrictions as soon as the situation allows, the digital green pass, and global vaccine supply.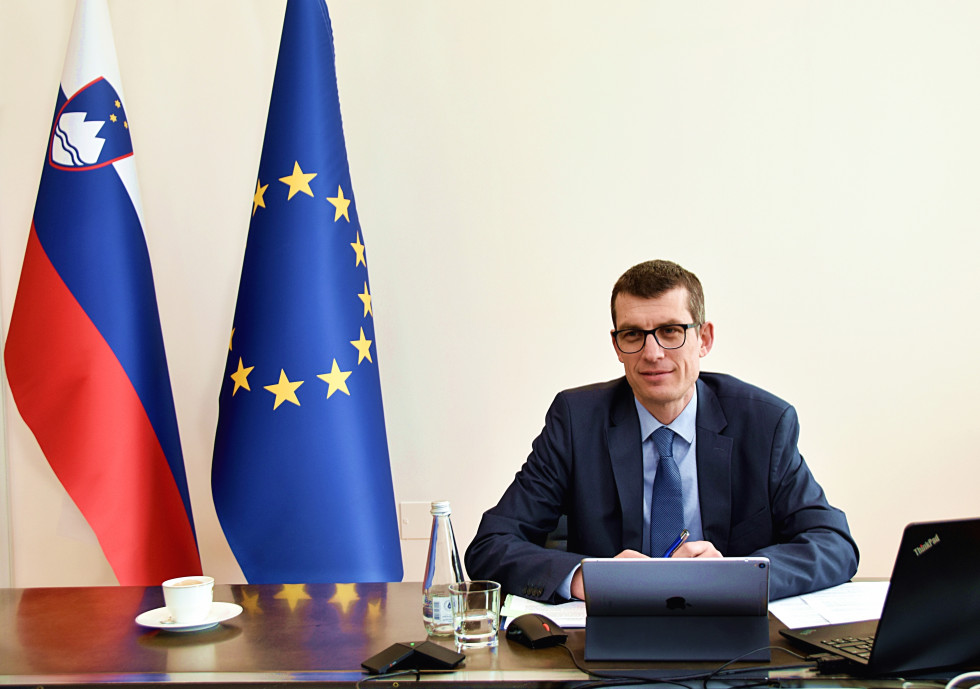 State Secretary Gašper Dovžan
Ministers and state secretaries for European affairs further discussed economic matters, in particular the single market, industrial policy, digitisation and the European Semester. They went on to address foreign policy issues and examine the situation in the Eastern Mediterranean.

Members of the General Affairs Council were brought up to date on the Council of the EU's discussions on the 2021 European Semester, the timeline for its further deliberation and the draft recommendation on the euro area's economic policies. They also exchanged views on the launch of the Conference on the Future of Europe.

Fair and equal access to vaccines in the EU Member States in proportion to their populations is important for Slovenia, as it would help achieve a common goal of vaccinating 70% of European citizens by summer. In addition, efforts should be made to ensure equal vaccine distribution and increase its production. Efforts to remove restrictions gradually and jointly when possible and introduce a digital green pass while ensuring a non-discriminatory approach are welcome. It is vital to ensure the availability of vaccines through COVAX at the global level and help the Western Balkan countries. Particular attention should be paid to digitisation and the Digital Compass, which promises to be a valuable tool for Europe's digital transformation in the coming decade. This should be followed by an adequate legal framework governing this field and a balanced digital development of Member States, especially relating to cybersecurity and digital skills. Finally, the EU should provide support to third countries, especially in the Western Balkans.

With regard to the Conference on the Future of Europe, State Secretary Dovžan was keen to point out that it will provide a valuable opportunity to engage in a comprehensive dialogue with EU citizens, adding that this year's Bled Strategic Forum will extensively address the future of Europe. As a member of the Conference's executive board, he also highlighted the importance of transparency and regular exchange of views on these issues in the General Affairs Council in the future.