Minister Logar expresses support for Ukraine's reform endeavours on its path towards the EU and NATO
Ministry of Foreign Affairs
Today, at the invitation of Ukraine's Foreign Minister Dmytro Kuleba, Minister of Foreign Affairs Anže Logar is on a working visit in Kiev. In addition to his meeting with his host, Minister Kuleba, and in light of the preparations for Slovenia's EU Council Presidency and the Eastern Partnership Summit, Minister Logar also met with Prime Minister Denys Shmygal, Chairman of the Verkhovna Rada of Ukraine Dmytro Razumkov, and Chief Monitor of the OSCE Special Monitoring Mission to Ukraine Yaşar Halit Çevik. During all these talks, the Minister expressed his full support for Ukraine's reform endeavours on its path towards the European Union and NATO.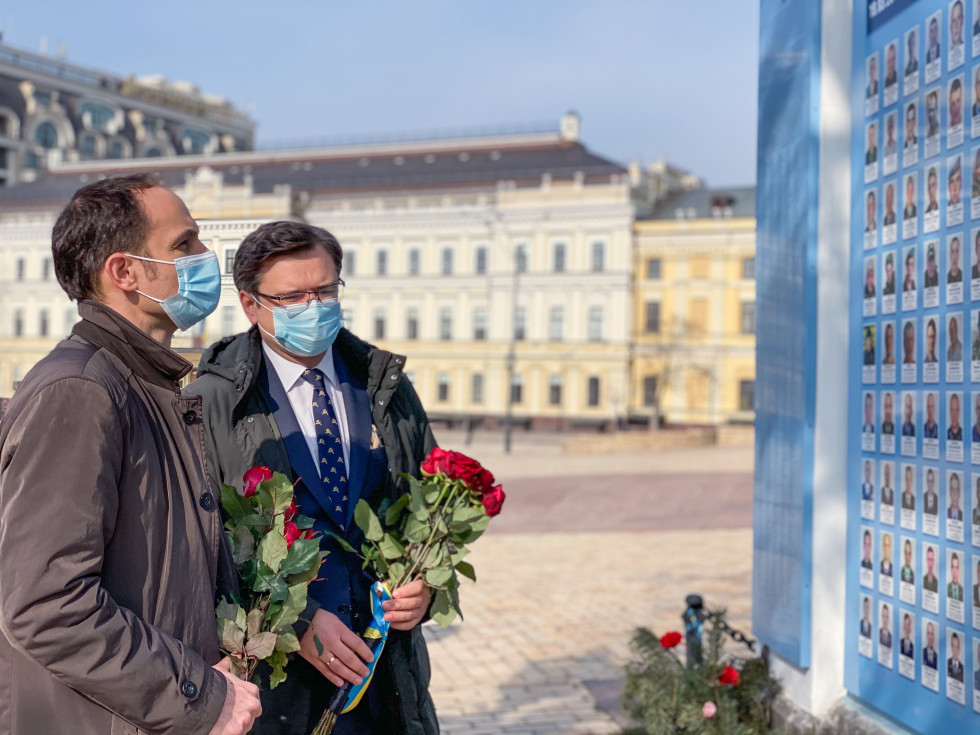 The Slovenian and Ukrainian foreign ministers at the press conference
Minister Logar with the OSCE representative Yaşar Halit Çevik
Minister Logar with Prime Minister Denys Shmygal
The Slovenian delegation during talks at the Verkhovna Rada
Minister Logar meeting the U-LEAD leadership at the House of Decentralisation in Kiev
The talks between foreign ministers Logar and Kuleba focused on exploring opportunities for strengthening political and economic ties between the two countries and outlining the priority tasks of Slovenia's EU Council Presidency. With Prime Minister Shmygal, Minister Logar exchanged views on and expectations for the Eastern Partnership Summit, which is scheduled to be held this autumn.
Minister Logar urged the Ukrainian government to continue implementing the reforms related to the fight against corruption, the rule of law, and the independence of the judiciary. The Ukrainian representatives expressed gratitude for Slovenia's support for Ukraine's territorial integrity and independence as well as for adhering to the non-recognition policy concerning the illegal annexation of Crimea. They further thanked Slovenia for providing psychosocial assistance through development assistance programmes and supporting decentralisation within the framework of the U-LEAD programme.
The talks also touched on the progress achieved towards a peaceful solution to the Ukrainian crisis and the latest developments in the temporarily occupied territories. The high officials agreed that the Organisation for Security and Cooperation in Europe (OSCE) provides a key mechanism for establishing dialogue and achieving progress in negotiations. For many years, a representative from Slovenia has also been taking part in the OSCE Special Monitoring Mission supervising the implementation of agreements on the ground.
In the afternoon, the Minister visited the so-called House of Decentralisation, where he addressed the U-LEAD leadership during a short ceremony marking Slovenia's recent entry into U-LEAD. It is one of the most prominent programmes co-financed by the EU and some of its Member States, aimed at supporting Ukraine in undertaking a full-scale decentralisation reform. Within the programme's framework, the Slovenian Government Office for Development and European Cohesion has seconded a national expert to Ukraine.