Strategic Council for Foreign Affairs to update the Foreign Policy Strategy
The Strategic Council for Foreign Affairs, headed by Foreign Minister Anže Logar, held its first meeting in its new composition today at the Ministry of Foreign Affairs to discuss the update of the current Slovenian Foreign Policy Strategy.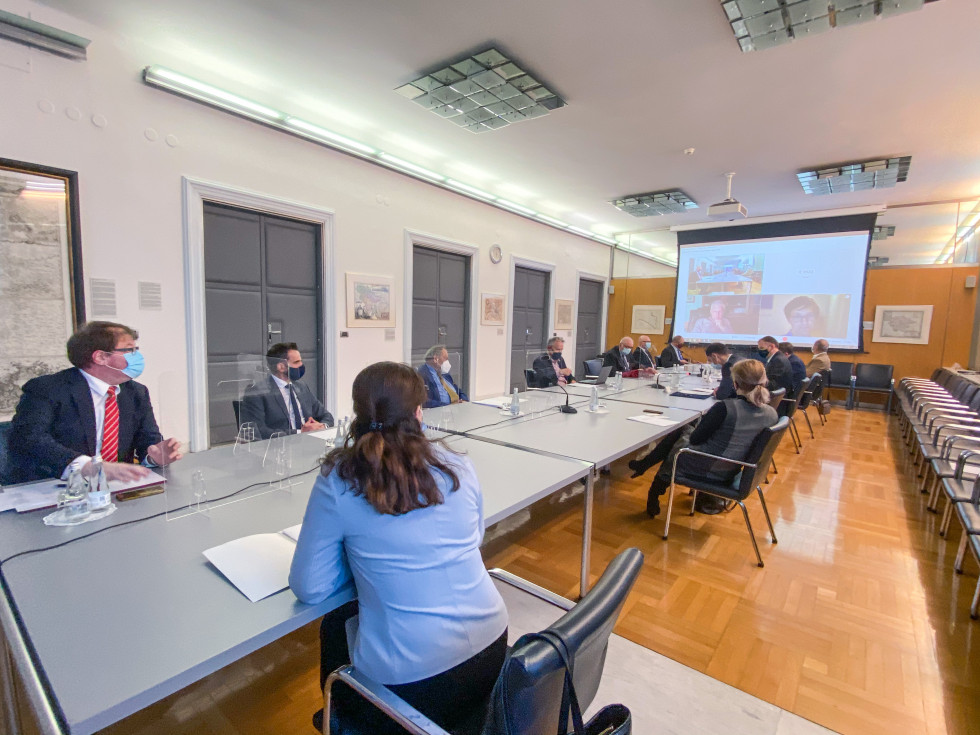 Minister of Foreign Affairs Anže Logar
Members of the Strategic Council for Foreign Affairs
After a long break following the first strategy in 1999, the Declaration of Foreign Policy of the Republic of Slovenia and the accompanying strategic document were adopted by the National Assembly in 2015. Adopted by the Slovenian Government, the strategic document is a living document, and now is the time to have it updated, as was already foreseen at the time of its presentation in 2015.
The members of the Strategic Council focused on the changing international relations, in particular the changed security environment which has, in recent years, also been characterised by the strengthening of hybrid and cyber threats, and during the last year, by the COVID-19 pandemic. Global multilateral cooperation is another area faced with new challenges. The importance of transatlantic cooperation is being strengthened, including the rising need for democracies to collaborate globally, particularly in dealing with authoritarian models of government. The upcoming Conference on the Future of Europe draws attention to the challenges facing the EU in the wake of Brexit and the pandemic, especially as regards the Union's role in the global world and its strategic autonomy in critical areas, including economic reconstruction, the consolidation and understanding of the rule of law, and the prevention of internal divisions.
The first ideas for updating the Strategy were presented by the Foreign Ministry last September during the Consultations of Slovenian Diplomats event. The Ministry is currently drafting proposals at the official level for updating certain parts of the Strategy.
The new members of the Strategic Council include: Prof. Dr Ernest Petrič, Office of the President of the Republic of Slovenia; Mr Alojz Kovšca, President of the National Council of the Republic of Slovenia; Ms Monika Gregorčič, Chair of the Committee on Foreign Policy of the National Assembly; Prof. Dr Dimitrij Rupel; Prof. Dr Davorin Kračun; Assoc. Prof. Dr Boštjan Udovič; Prof. Dr Matej Avbelj; Prof. Dr Marko Pavliha; Mr Dimitrij Zadel, President of the Management Board of the Port of Koper; Ms Kaja Ciglič, Microsoft Slovenia; Prof. Dr Vito Bobek; and Prof. Dr Jure Leskovec. Dr Leskovec and Dr Kračun took part in the discussion via audio-video connection.