Austrian Federal Minister for the EU Karoline Edstadler visits Slovenia
Ministry of Foreign Affairs
Today, State Secretary Gašper Dovžan hosted Karoline Edtstadler, Austrian Federal Minister for the EU and Constitution at the Federal Chancellery. Slovenia and Austria share similar views on EU issues and are partners in regional initiatives. Minister Edtstadler was also received by Minister of Foreign Affairs Anže Logar.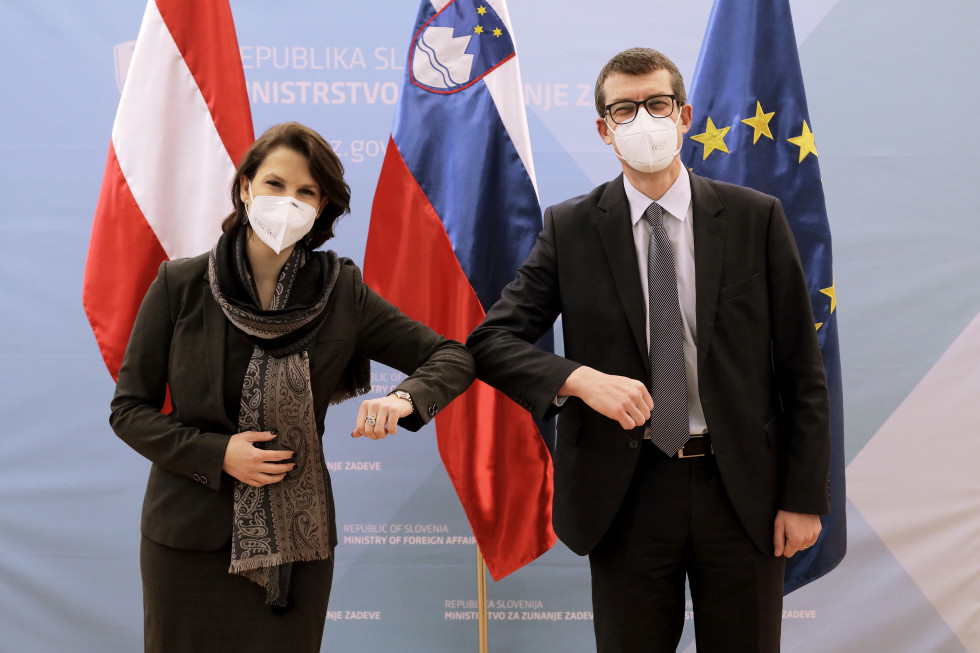 State Secretary Dovžan and Austrian Federal Minister Edtstadler
Slovenian and Austrian delegations during talks
Minister Anže Logar with Austrian Federal Minister Karoline Edtstadler
Minister Anže Logar with Austrian Federal Minister Karoline Edtstadler
Minister Anže Logar with Austrian Federal Minister Karoline Edtstadler
State Secretary Dovžan and Federal Minister Edtstadler underlined friendly relations and regular political dialogue between the two countries as well as diversified cooperation in a wide range of areas of common interest. Austria represents an important economic partner for Slovenia, as it is its number one foreign investor, ranks second in terms of tourist overnight stays, and remains its third biggest trading partner.
During their talks, the pair jointly condemned the recent incidents where bilingual local signs in Carinthia region were damaged, fostering discord between the Slovene- and German-speaking population.
The counterparts devoted particular attention to measures to counter the COVID-19 pandemic, agreeing to regularly exchange information on all the measures concerning the lives of citizens on both sides of the border. They discussed the vaccination strategy and supply at the EU level. They were in full agreement that a rapid delivery of a sufficient supply of the COVID-19 vaccines and therefore adequate vaccination coverage are crucial to successfully deal with the pandemic. They also touched on the future of the European Union, advocating for the earliest possible launching of the Conference on the Future of Europe. They went on to review the Pact on Migration and Asylum and the situation on the Western Balkans Route. State Secretary Dovžan also took this opportunity to apprise Federal Minister Edtstadler of the priorities of Slovenia's EU Council presidency in the second half of this year.
The Federal Minister then met with Foreign Minister Anže Logar. Among other topics, they discussed the rule of law, as the second annual rule of law dialogue, which is based on the mechanism of the Commission's Annual Reports involving all Member States, is to take place during Slovenia's Council presidency. They also exchanged views on the EU enlargement process, stressing the importance of a credible EU enlargement policy for the Western Balkans and, at the same time, the need for a consistent fulfilment of membership criteria.