EU Foreign Ministers on climate diplomacy, transatlantic relations and cooperation with Japan and the UK
Today, Minister of Foreign Affairs Anže Logar attended the regular meeting of the EU Foreign Affairs Council (FAC). The discussion focused on three key topics – challenges and cooperation in the Indo-Pacific region, the security situation in Asia, climate and energy diplomacy, and possibilities for cooperation between the EU and the UK in common foreign and security policy.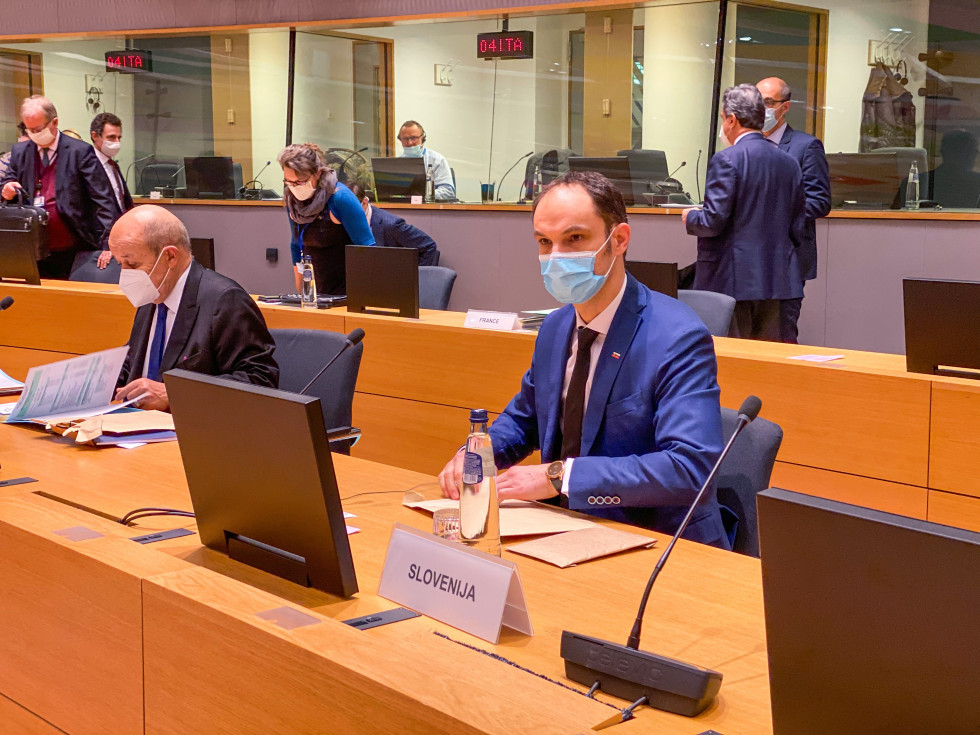 Minister dr. Logar with Portuguese Minister August Santos Silva Author
Regular meeting of the EU Foreign Affairs Council
In the introductory part, EU High Representative for Foreign Affairs and Security Policy Josep Borrell underlined the Union's strategy for the roll-out of COVID-19 vaccines, transatlantic relations with respect to the new US administration, challenges arising from the situation of migrants in Bosnia and Herzegovina, and the detention of the Russian opposition leader Alexei Navalny upon his return to Russia, as well as the latest developments in Hong Kong, Iran and Venezuela.
Japanese Foreign Minister Toshimitsu Motegi joined the meeting by video link and outlined for the EU foreign ministers Japan's vision for a free and open Indo-Pacific region. Among other topics, the ministers discussed enhanced regional security in Asia, including on the Korean peninsula, and maritime security in the East and South China Sea. Minister Logar welcomed the EU-Japan strategic partnership and stressed that regional security challenges can only be resolved through cooperation between determined and like-minded partners. In the same way Japan is shaping its vision for the Indo-Pacific, the Union should also be developing a common approach for this region. In addition to the traditional security issues, there is great potential for cooperation with Japan in countering cyber and hybrid threats and defining high standards for the use of new technologies, including artificial intelligence.
Next on the agenda were climate and energy diplomacy, which are currently at the forefront of discussions in the run-up to the 26th United Nations Climate Change Conference (COP26) to be held in Glasgow this autumn. During the preparations for COP26, the European Union, which is setting a worldwide example in climate action, should be aiming at strengthening international alliances. Minister Logar underlined the impact of climate change on water and advocated for a comprehensive approach to water-related issues in the Union's external action. He also pointed out the role of cooperation with partners, drawing attention to the Green Agenda for the Western Balkans, which is at the top of the agenda of Slovenia's upcoming EU Council presidency.
During the informal working lunch, the ministers brought to the fore the importance of further cooperation with the UK in common foreign and security policy as well as in common security and defence policy. The UK plays an important role in global relations and it is thus imperative to set a framework for an EU-UK partnership which would be to the benefit of both sides in the following months.