Minister Logar meets with President of the International Criminal Court Judge Chile Eboe-Osuji
Ministry of Foreign Affairs
During today's visit to The Hague, Foreign Minister Anže Logar held a meeting with the President of the International Criminal Court Judge Chile Eboe-Osuji. They highlighted the importance of constructive cooperation in fighting impunity and the crucial role of an independent judiciary.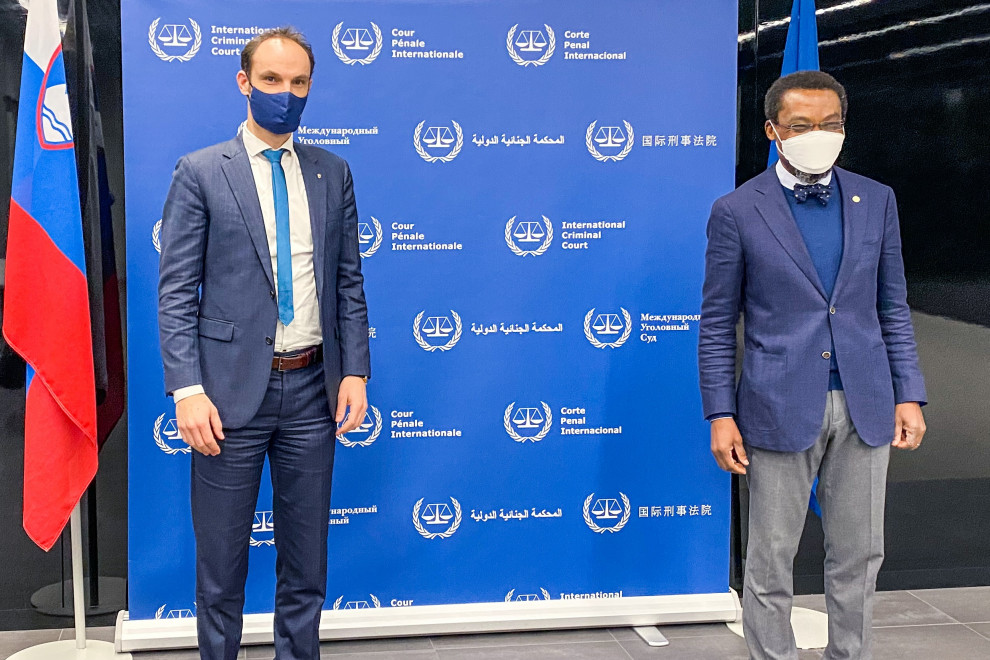 Foreign Minister Logar holding a meeting with President of the International Criminal Court Judge Chile Eboe-Osuji
Minister Logar underlined it was paramount to ensure respect for international law and an effective and independent international criminal justice system, which are also among the priorities of Slovenia's foreign policy. He reaffirmed Slovenia's continued support for the International Criminal Court and the Rome Statute system in fighting impunity, achieving justice and protecting the interests of the victims of crime.
The two officials exchanged views on current issues which are scheduled to be discussed and decided upon at the 19th session of the Assembly of States Parties to the Rome Statute to be held from 14 to 16 December 2020 in The Hague and from 17 to 23 December 2020 in New York.
Minister Logar emphasised the importance of choosing the judges and the prosecutor from among highly qualified experts and taking effective measures to strengthen and improve the functioning of the Court and the Rome Statute system based on the findings of the Independent Expert Review (IER).
President of the International Criminal Court Osuji appreciated Slovenia's recent contribution to the ICC's Trust Fund for Victims, whose protection is among the core aspects of the functioning of criminal justice.
Minister Logar apprised Judge Osuji of the current state of support for the initiative presented by Slovenia, the Netherlands, Belgium, Argentina, Senegal and Mongolia to adopt a new convention on mutual legal assistance and extradition in the prosecution of genocide, crimes against humanity and war crimes at the national level (the so-called MLA Initiative).