Foreign Minister Logar with American Secretary of State Pompeo on strategic dialogue between Slovenia and the US
Ministry of Foreign Affairs
Foreign Minister Anže Logar is visiting Washington D.C. at the invitation of US Secretary of State Mike Pompeo. The main purpose of the visit is further strengthening of relations between Slovenia and the US, historical friends, strategic partners and NATO allies.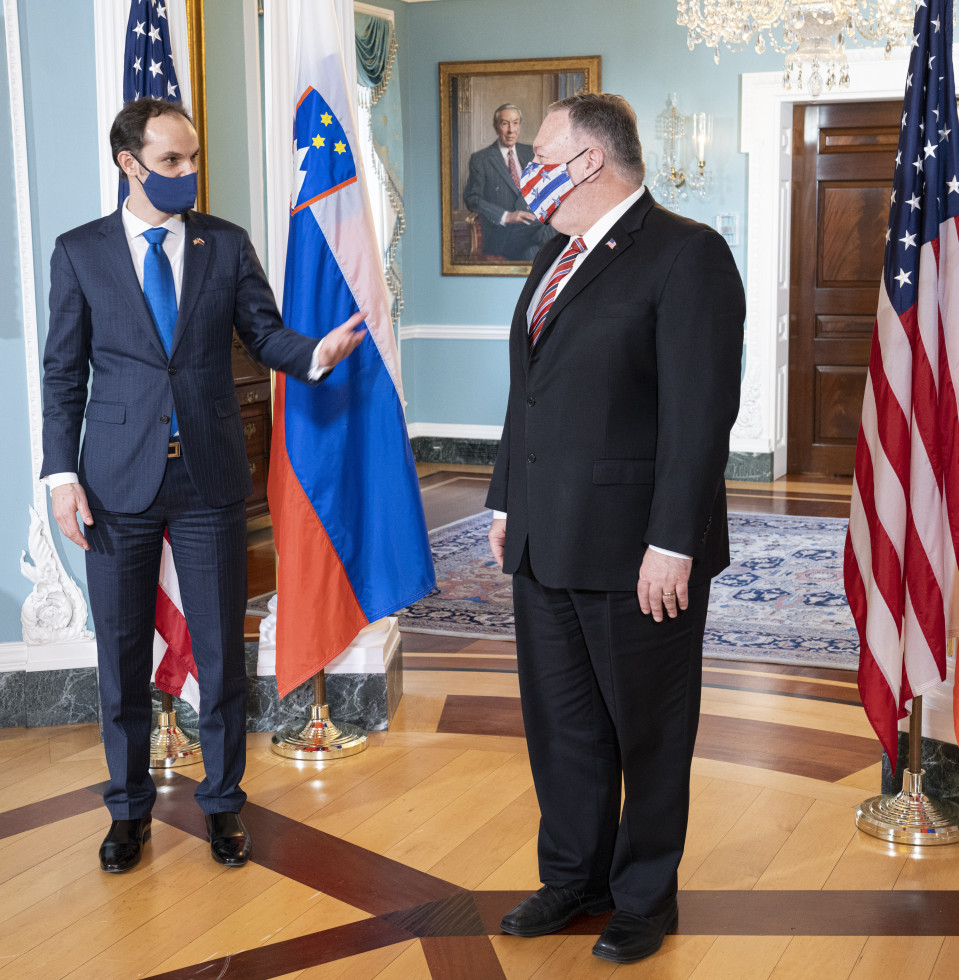 Minister Logar and American Secretary of State Pompeo
Minister Logar
At today's bilateral meeting, Minister Logar and Secretary Pompeo expressed satisfaction with the relations between the two countries, which were recently brought to a higher level. The two governments strengthened their cooperation in numerous areas, and the deepened relations are reflected in the second meeting of ministers in the last four months.

In this light, the two high officials officially launched a new, upgraded form of structured bilateral dialogue – Strategic Dialogue. The first round of strategic talks took place today at the Department of State, led by Political Director at the Slovenian Ministry of Foreign Affairs Jernej Müller and US Deputy Assistant Secretary of State Matthew Boyse.

Minister Logar and Secretary Pompeo reaffirmed the commitment of both countries to the implementation of the allied decisions, particularly regarding the sharing of burden.

They assessed bilateral economic cooperation as good, but with a great deal of untapped potential. The American side underlined the geostrategic importance of the Port of Koper, opening up opportunities in infrastructure and logistics. Both countries take a proactive approach in information and communication technologies, digitalisation and artificial intelligence.

Minister Logar and Secretary Pompeo noted close cooperation of the two countries within regional forums, including the Three Seas Initiative and the Partnership for Transatlantic Energy Cooperation.

Minister Logar voiced Slovenia's full support for the strengthening of transatlantic partnership between the EU and the US, which now, in the changed global circumstances, carries even greater weight than before. One of Slovenia's priorities is also comprehensive cooperation in addressing the COVID-19 pandemic and its ramifications.

Minister Logar brought Secretary Pompeo up to date with the preparations for Slovenia's presidency of the EU Council in the second half of 2021. In this role, Slovenia will continue to foster close relations between the EU and the USA. Furthermore, Slovenia believes that the year 2021 is the right time to hold an EU-US summit.

Minister Logar and Secretary Pompeo went on to exchange views on topical issues and regional challenges, including in the Western Balkans, on relations with Russia and China, and on the situation in the Middle East.