State Secretary at the Ministry of Foreign Affairs, Stanislav Raščan, took part in the opening session of the 27th OSCE Ministerial Council held via video teleconferencing. The event is hosted by the Albanian Prime Minister and Minister of Foreign Affairs
Ministry of Foreign Affairs
State Secretary at the Ministry of Foreign Affairs, Stanislav Raščan, took part in the opening session of the 27th OSCE Ministerial Council held via video teleconferencing. The event is hosted by the Albanian Prime Minister and Minister of Foreign Affairs, Edi Rama, as OSCE Chairperson-in-Office, and will conclude on 4 December 2020.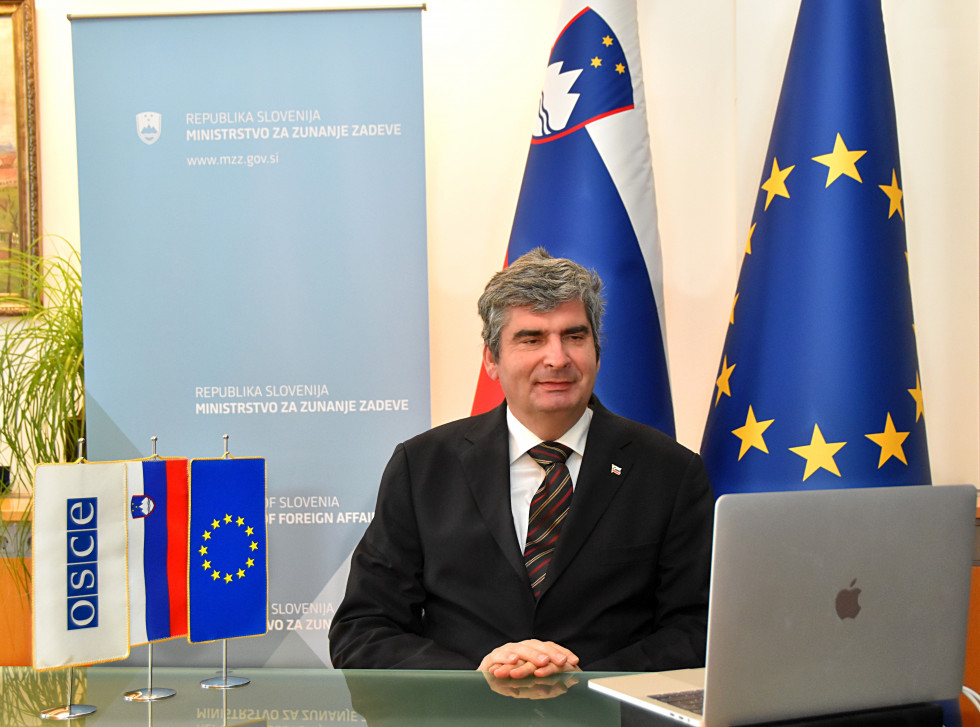 Address by German Foreign Minister Heiko Maas
Attended by delegations of fifty-seven participating countries, eleven partner countries from the Mediterranean and Asian regions, and representatives of OSCE autonomous institutions, including numerous other international organisations, the event will focus on a debate on resolving conflicts in the OSCE region, particularly the crisis in and around Ukraine, recent developments in Belarus and Nagorno-Karabakh, unresolved conflicts in Georgia and Moldova, and remaining topical security issues in the OSCE region. In addition to the Albanian host, participants at the opening session were also addressed by the President of the OSCE Parliamentary Assembly, George Tsereteli.
In his address to the Plenary Session, State Secretary Raščan first expressed his concern about the challenges facing the Organization, including COVID-19 pandemic and internal crisis, as well as conflicts in the region, and called for the strengthening of dialogue to support conflict resolution. He then touched on the recent terrorist attacks, adding that Slovenia strongly supported the adoption and implementation of all decisions that contribute to the fight against terrorism.
State Secretary Raščan also commended the OSCE's efforts to find a solution to the situation in Belarus, underlining the need for open dialogue between the authorities and the opposition, and expressed his support for the country's civil society. On the occasion of the 30th anniversary of the Charter of Paris, he also touched on the importance of building trust and political will for peaceful conflict resolution and dialogue, and called on the OSCE to modernise its conflict prevention and resolution.
State Secretary Raščan also advocated for constructive cooperation between all participating countries, welcomed the appointment of the new Secretary-General and heads of autonomous institutions, and recalled how the OSCE was the first international organisation that Slovenia joined after gaining independence, as a staunch supporter of effective multilateralism.