State Secretary Raščan at the virtual seminar on the life and work of Branislava Sušnik
Ministry of Foreign Affairs
State Secretary Stanislav Raščan addressed the participants of a virtual seminar on the life and work of Branislava Sušnik, organised by the Ministry of Foreign Affairs in collaboration with the Embassy of the Republic of Paraguay and the Slovene Ethnographic Museum. The event was part of the introductory activities organised as a prelude to the Latin America and Caribbean Days international conference with the central event planned to take place in spring 2021.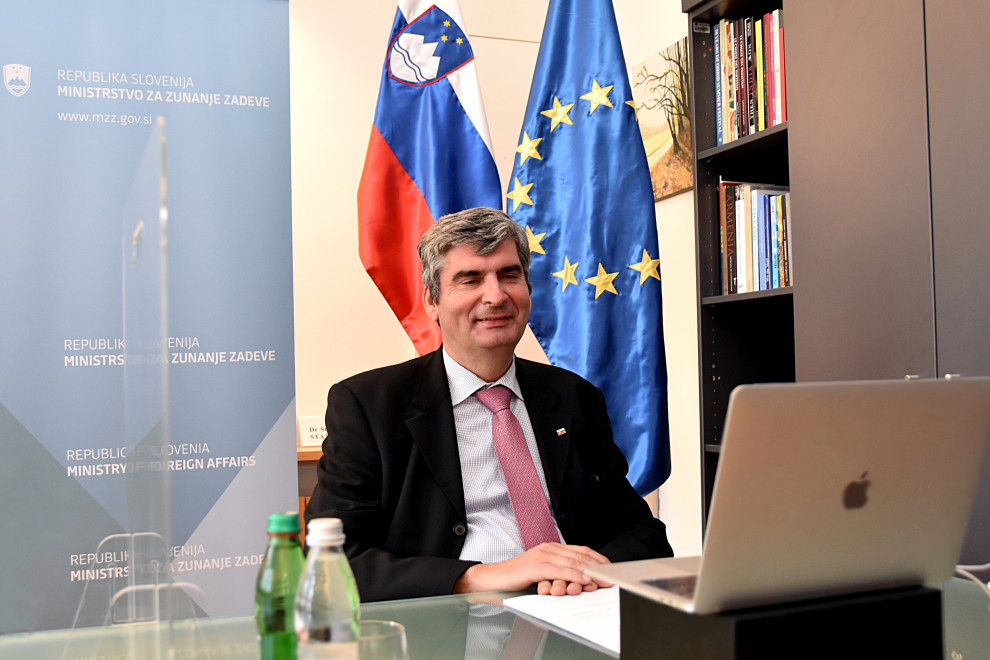 Irena Gril
Seminar participants on the screen
Seminar participants on the screen
Ambassador of the Republic of Paraguay, H.E. Juan Francisco Facetti
The virtual seminar "Paraguay as known and lived by Branislava Sušnik" marked the centenary of the birth of this Slovenian scientist and anthropologist who devoted her life to researching the life of indigenous people in Paraguay. Sušnik received the highest Paraguayan award in science for her many years of research and her contribution to the development of science in Paraguay.
In his speech, State Secretary Raščan highlighted the great importance of the work of Stanislava Sušnik, whose life and achievements made a significant mark on the links between Slovenia and Paraguay and still continue to foster friendly relations between the two countries. As a scientist, professor and museum director, Sušnik left an indelible imprint on ethnology, namely in the field of indigenous cultures and their languages. In the words of State Secretary Raščan, she should be respected the world over "not only for her scientific achievements, but also as a person who was driven by her desire to do research and pass her knowledge on to others and who strived for respect and diversity".
The seminar attendees also included State Secretary at the Ministry of Culture Ignacija Fridl Jarc, Paraguay's Minister of Culture Ruben Capdevila, Director of the Slovene Ethnographic Museum (SEM) Natalija Polenec, Project Leader of the Sušnik Project (SEM) Tanja Roženberger, Curator of the Sušnik Exhibition (SEM) Mojca Terčelj, and the professor at the Diplomatic Academy of Paraguay, historian Hérib Caballero. The webinar not only portrayed the life and work of this exceptional woman but also shed light on the work of the Scientific Society of Paraguay and the Guaraní people. The virtual event gathered one hundred participants from science and research institutes of both countries, ministries, and the diplomatic corps.
The centenary of the birth of Branislava Sušnik will be marked through numerous events in both countries, including a colloquium at the Slovene Ethnographic Museum scheduled for 26 November and an event organised by the Embassy of the Republic of Slovenia in Buenos Aires scheduled for 10 December.