Foreign Ministry donates computers and monitors for the remote schooling of children and teenagers
Today, 20 November 2020, Minister of Foreign Affairs Anže Logar symbolically handed a keyboard to Mr Matjaž Ugovšek, representative of the Slovenian Sustainability Society "Duh časa" (the Spirit of Time) a non-profit volunteer organisation which has been engaged in collecting used computer equipment since December 2011. The collected computer equipment is made ready for use and donated to individuals, families in need, and non-profit organisations.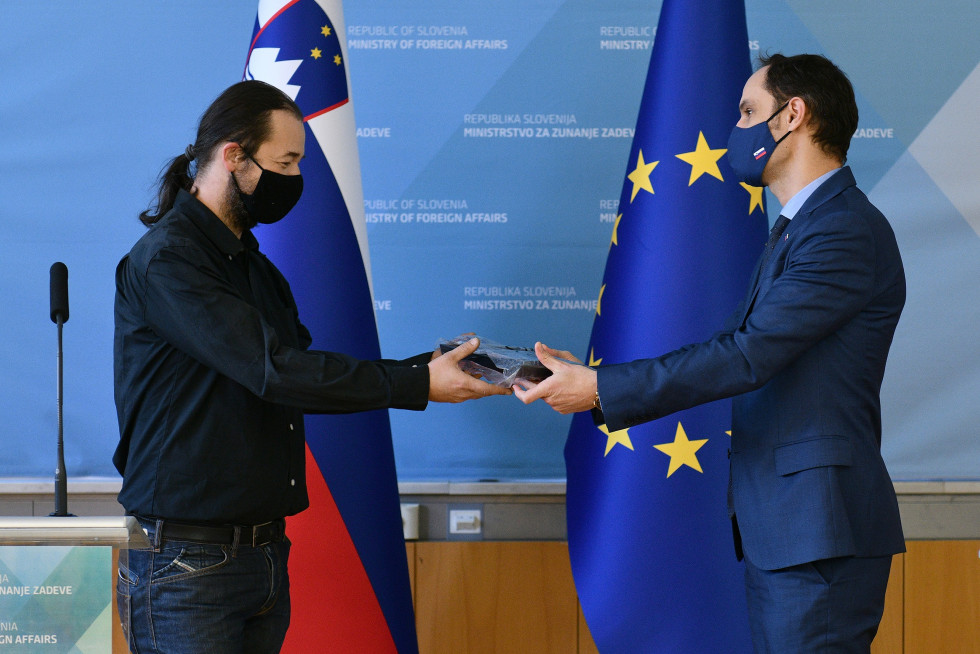 Ambassador Aleksander Geržina, official spokesperson of the Ministry of Foreign Affairs, Mr Matjaž Ugovšek, and Minister Anže Logar
Minister Anže Logar and Mr Matjaž Ugovšek
Demand for second-hand computer equipment has increased significantly during the shift to distance learning as a result of the COVID-19 pandemic. The Ministry of Foreign Affairs responded with a donation of 96 monitors (Philips Monitor) and 73 workstations (Lenovo ThinkCentre) for all those who were unable to take part in remote learning due to a lack of computer equipment.
The donated computers and monitors are ready for use. They were used at the Ministry between 2012 and 2015, but no longer meet its needs as they do not allow the optimal functioning of the information system used there.
During the symbolic handover of the keyboard to the representative of the Society, Minister Anže Logar pointed out that the Ministry firmly supports the Society's initiative, which enables young people in difficult situations to fully take part in the distance learning process, and went on to express the hope that they will continue to be successful in collecting computer equipment. Mr Ugovšek thanked the Ministry for the donation and the practical response to the initiative.