Minister Logar and Slovak Minister Korčok on economic cooperation and coordination of measures to curb COVID-19
Ministry of Foreign Affairs
On his working visit to Slovakia, Minister of Foreign Affairs Anže Logar met with Minister of Foreign and European Affairs of the Slovak Republic Ivan Korčok today. The ministers principally focused on the measures being taken by Slovenia and Slovakia to limit the spread of COVID-19, agreeing that it was paramount to coordinate these measures to successfully curb the epidemic and relaunch the European economy.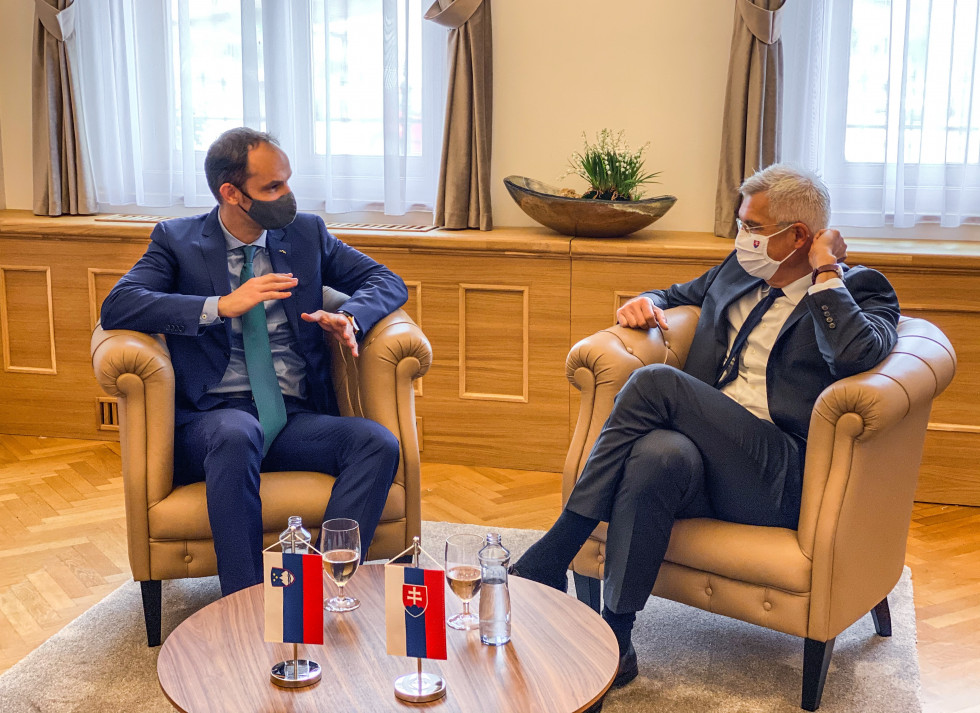 Minister Anže Logar and minister Ivan Korčok
Minister Anže Logar and minister Ivan Korčok
As regards the coordination of measures to contain the spread of COVID-19, the ministers first and foremost advocated improved coordination at the EU level, and agreed that restrictions on cross-border travel had to be devised so as to have a minimal impact on citizens' daily lives and business. They highlighted the coordinating efforts by the Austrian, Czech, Hungarian, Slovak and Slovenian foreign ministers of the so-called Central 5 as an example of best practice, which was a good reason to keep meeting within this group.
The ministers advocated enhancing cooperation between Slovenia and Slovakia, stressing the importance of economic and regional cooperation, and a collaborative approach to shaping EU policies. Economic cooperation between Slovenia and Slovakia is increasing every year. For a number of years now, the total annual trade between the two countries has exceeded EUR 1 billion, making Slovakia one of Slovenia's largest trading partners. As the talks turned to economic cooperation in the region, the counterparts agreed it was necessary to expand the capacity of transport and energy infrastructures, particularly on the North-South axis, to further the economic development of Central Europe. In addition, they pointed out it was vital for the economies of both Slovenia and Slovakia to increase the capacity of rail links to the Slovenian port of Koper. In fact, Slovakia is the third largest inland market for the Port of Koper, particularly for car exports and imports of automotive components.
The Western Balkans was another of the topics up for discussion. The ministers agreed it was imperative that both countries play an active role in the process and help create conditions conducive to achieving progress in the region and for its integration into Euro-Atlantic structures. The counterparts also touched on the possible further responses of the EU to the evolution of events in Belarus and the Eastern Mediterranean.