Minister Logar in the Czech Republic to discuss COVID-19 coordination and Central European cooperation
Ministry of Foreign Affairs
On his working visit to the Czech Republic, Foreign Minister Anže Logar and his host, Foreign Minister Tomáš Petříček, talked about the importance of coordinating measures to stop the spread of COVID-19 and facilitate European economic recovery. They also discussed the strengthening of regional cooperation.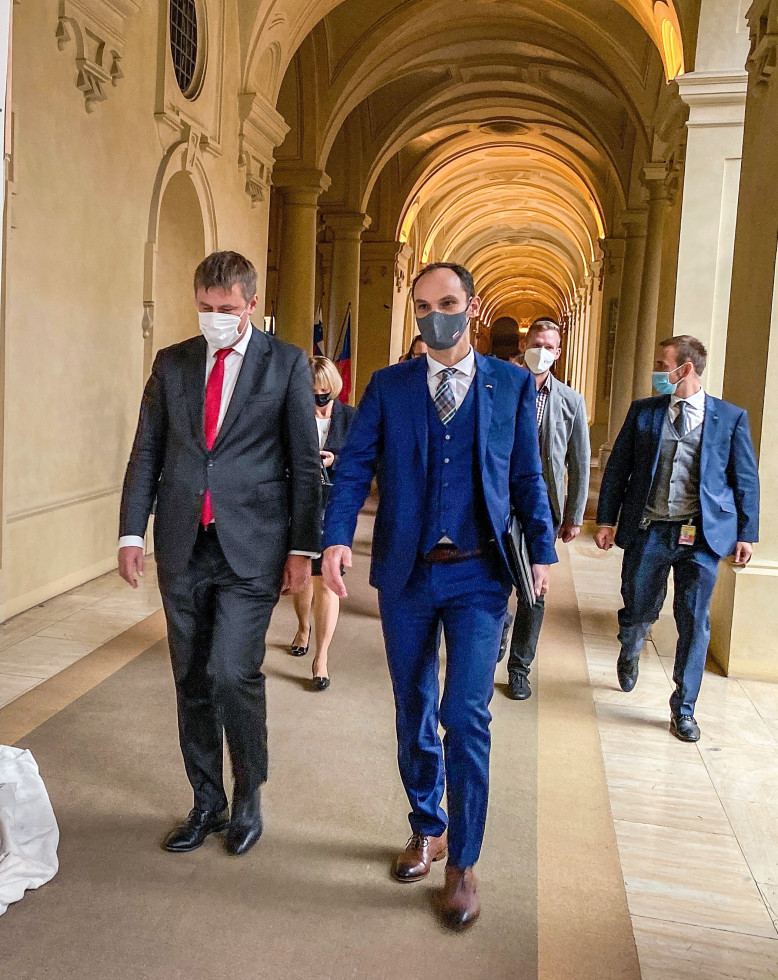 Minister Tomáš Petříček and Minister Anže Logar
Tomáš Petříček, Andrea Ungerová and Anže Logar
Bilateral meeting of the two delegations
Minister Anže Logar and Minister Tomáš Petříček
Minister Anže Logar and Minister Tomáš Petříček
Interview with Minister Anže Logar for Czech Television
Minister Anže Logar with Czech Prime Minister Andrej Babiš
Plenary meeting of Minister Anže Logar and Czech Prime Minister Andrej Babiš
Both ministers advocated more effective coordination of actions at the European Union level, agreeing that measures should constitute a minimal obstacle to the functioning of the Union's internal market and the economy in general. At a joint press conference following the meeting, the two ministers stressed that the coordination of measures between the countries of the so-called Central 5 – composed of Austria, Hungary and Slovakia in addition to Slovenia and the Czech Republic – has proved very successful and that it should be continued. In addition, they supported the Union's joint approach to COVID-19 vaccine development.
The two ministers share the view that close cooperation between the countries of Central Europe is crucial for their further economic development. They also advocated intensified cooperation on the construction of transport and energy infrastructure in the region. Minister Logar expressed his interest in closer partnership between the Slovenian and Czech logistics sectors, assuring Minister Petříček that the construction of the second track of the Koper – Divača railway line will also meet the practical requirements for greater connectivity of Czech logistics companies to the Port of Koper.
As part of the working visit, Minister Logar and Minister Petříček ceremoniously presented the exequatur to the new Honorary Consul of the Republic of Slovenia in Brno, Andrea Ungerova. The opening of the consulate headed by the Honorary Consul in Brno will see Slovenia strengthen its presence in the area of historical Moravia, in which Brno, the second largest Czech city, is the leading centre.
During his visit to Prague, Minister Logar also had an opportunity to meet with the Prime Minister of the Czech Republic, Andrej Babiš. Their discussions focused on further development of various forms of Central European cooperation.