State Secretary Kajzer and United Nations Special Representative for Children and Armed Conflict on protecting children and strengthening cooperation
Ministry of Foreign Affairs
Today, 8 October 2020, Slovenian Foreign Ministry State Secretary Tone Kajzer held talks with Virginia Gamba, United Nations Special Representative for Children and Armed Conflict.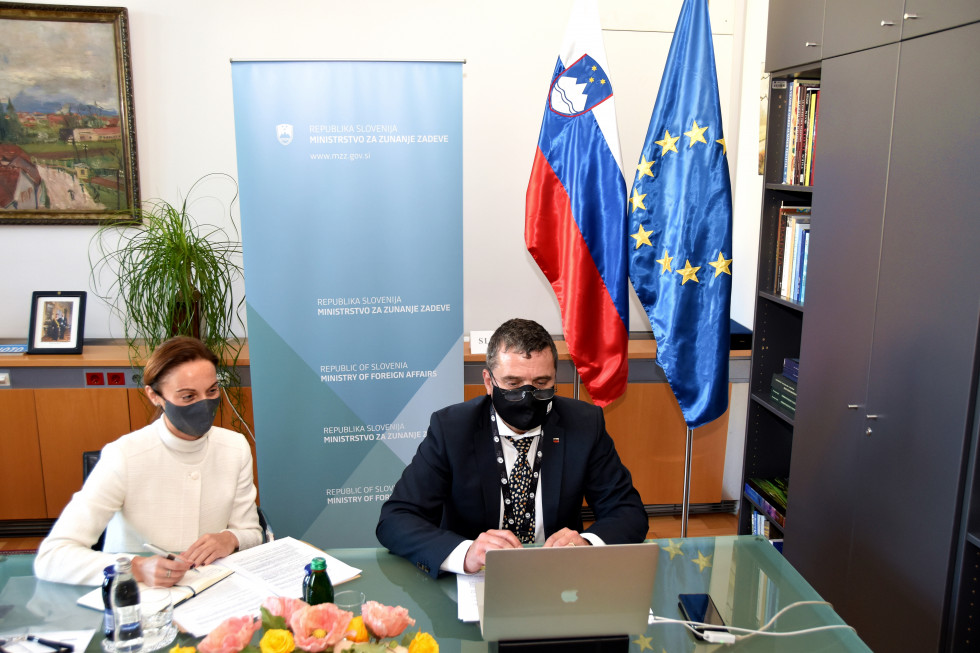 Tone Kajzer and Virginia Gamba
They underlined that continued political support of UN Member States was paramount for dealing with the most serious offences against children in armed conflict, with their trend and nature in the circumstances of the COVID-19 pandemic giving particular cause for concern. They continued their talks by identifying areas and activities where cooperation might be possible. Slovenia can make a useful contribution to improving the current situation, drawing on the expertise and experience gained from working in Enhancing Human Security (ITF) and implementing humanitarian projects to provide rehabilitation and psychosocial assistance to children traumatised by armed conflict.

United Nations Special Representative Gamba stressed the importance of guaranteeing universal access to a COVID-19 vaccine, especially for the most vulnerable groups, including children in armed conflict, adding that warring parties should never be permitted to use the vaccine as a tool for reaching their political goals. She also pointed to the growing problem of denying humanitarian organisations access to areas of armed conflict and the rising numbers of attacks on schools and hospitals, both of which, according to Special Representative Gamba, harm children more than any other group.

State Secretary Kajzer affirmed Slovenia's commitment to effectively promote and protect children's rights. This is also among the priorities of Slovenia's foreign policy, which is being pursued at the international and EU levels. During its Presidency of the EU Council, Slovenia will seek to strengthen cooperation with the United Nations Special Representative Office in Brussels and endeavour to address fundamental challenges, including the modernisation of EU documents relating to the above.

The pair were unanimous in their agreement that the priorities of the United Nations and Slovenia mostly overlap, which is a good starting point for continuing cooperation and achieving at least some of the primary goals to prevent the most serious violations of children's rights in armed conflict.