State Secretary Kajzer on a governmental visit to Koroška
Ministry of Foreign Affairs
Today, 7 October 2020, State Secretary Tone Kajzer represented Foreign Minister Dr Anže Logar on a visit of the Slovenian Government to the Koroška region.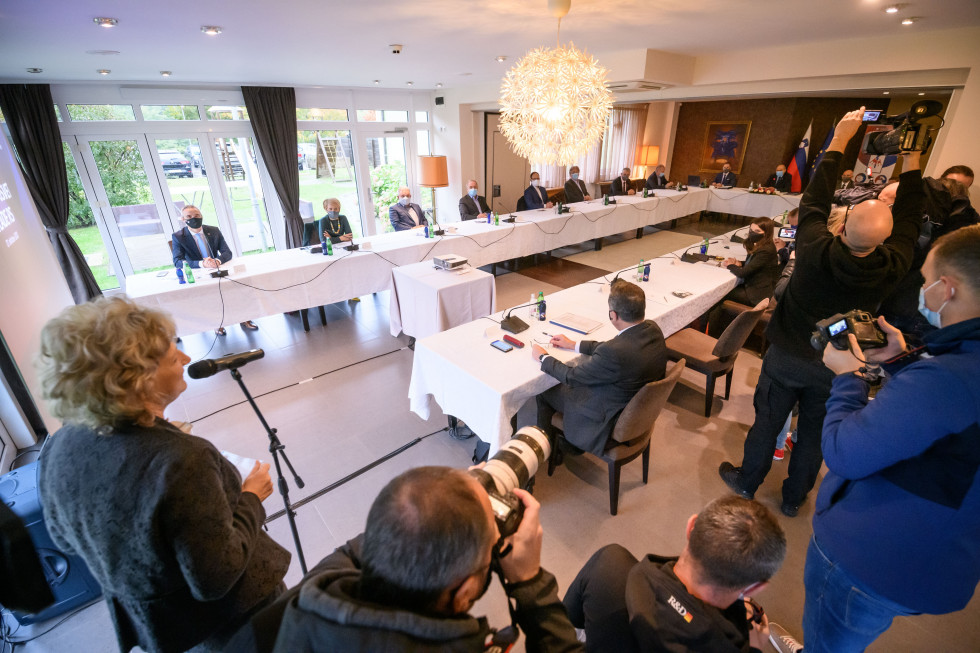 Meeting with representatives of the Regional Development Agency for Koroška, d.o.o.
Meeting with representatives of the Regional Development Agency for Koroška, d.o.o.
Visit to Dogs4motion startup
State Secretary Kajzer at the #StayHealthy stand
State Secretary Kajzer and Minister of Economic Development and Technology Zdravko Počivalšek visiting the CABLEX export company
The State Secretary visited the Regional Development Agency for Koroška and the Koroška Business Incubator Network, the key promoters of entrepreneurship and positive prospects for young people, as well as a breeding ground for Koroška startups. These, in turn, bring high added value to the local environment by converting domestic knowledge into innovative products.
At the Faculty of Polymer Technology, the State Secretary was informed of the latest trends in the field and the Slovenian know-how. Closely connected to the economy, the Faculty enjoys a reputation as an internationally recognised academic institution that builds on excellence in study, development and research programmes, fostering the sharing of knowledge and networking between students and companies. State Secretary Kajzer expressed his support for the international promotion of Slovenian knowledge abroad.
Accompanied by Zdravko Počivalšek, Minister of Economic Development and Technology, State Secretary Kajzer paid a visit to an export company in Mežica, CABLEX. Owing largely to effective measures at the national level, the highly export-oriented industry in Koroška has managed to operate and maintain production almost throughout the coronavirus crisis. With its export orientation, it is one of the regions with the highest contribution to a trade surplus. As a border region, Koroška has also established successful cooperation and links with neighbouring Austria.
State Secretary Kajzer also took the opportunity to visit the First Primary School Slovenj Gradec, a UNESCO-associated school and headquarters of the UNESCO Associated Schools Network for the Koroška region. He presented the activities of the United Nations to older pupils and invited them to play an active part in the Organization. Later on, the Mayor of Slovenj Gradec, Tilen Kluger, joined the Government delegation. In the year of important anniversaries, the Municipality of Slovenj Gradec devoted particular attention to celebrations marking United Nations Day, as its municipal holiday falls on 19 September, the day it was appointed as Messenger of Peace by the UN Secretary-General 31 years ago. This appointment has greatly impacted the city's further development.