State Secretary Kajzer in online call with Dr Dunlop on the transition to a circular and zero-carbon society
Ministry of Foreign Affairs
Today, State Secretary Tone Kajzer held an online call with Dr Kirsten Dunlop, Chief Executive Officer of the Climate Knowledge and Innovation Community (EIT Climate-KIC) supported by the European Institute of Innovation and Technology funded by the European Commission.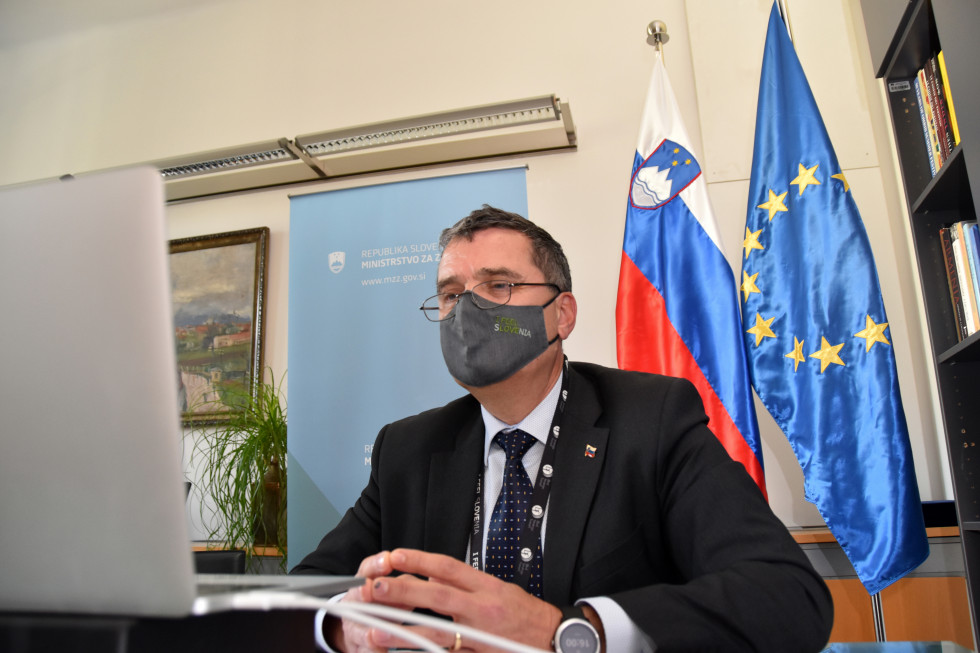 State Secretary Tone Kajzer in online call with Dr Kirsten Dunlop
The officials discussed the Slovenian project launched in 2018 in cooperation with the European Institute of Innovation and Technology (EIT Climate-KIC and EIT RawMaterials consortium) and the Joint Research Centre of the European Commission in order to develop a comprehensive approach to introducing systemic changes and strengthening the knowledge and capacities for transitioning to a circular and zero-carbon society ("A Deep Demonstration of a Circular, Regenerative and Low-Carbon Economy").
Dr Dunlop commended the efficient participation of eight Slovenian ministries in this strategic project, an unprecedented feat in Europe that can serve as an example to other Member States and neighbouring countries. State Secretary Kajzer reaffirmed Slovenia's commitment to transitioning to a circular economy, which is engrained in key Slovenian strategic documents and the post-pandemic recovery plans.
The talks also touched on potential joint projects, particularly for the promotion of the transition into a circular economy in the Western Balkans. The topic will be one of Slovenia's priorities during its Presidency of the Council of the EU, and the region is among areas of interest for the EIT Climate KIC. State Secretary Kajzer concluded that Slovenia is aiming to become a circular economy hub, also to better assist the Western Balkan countries.